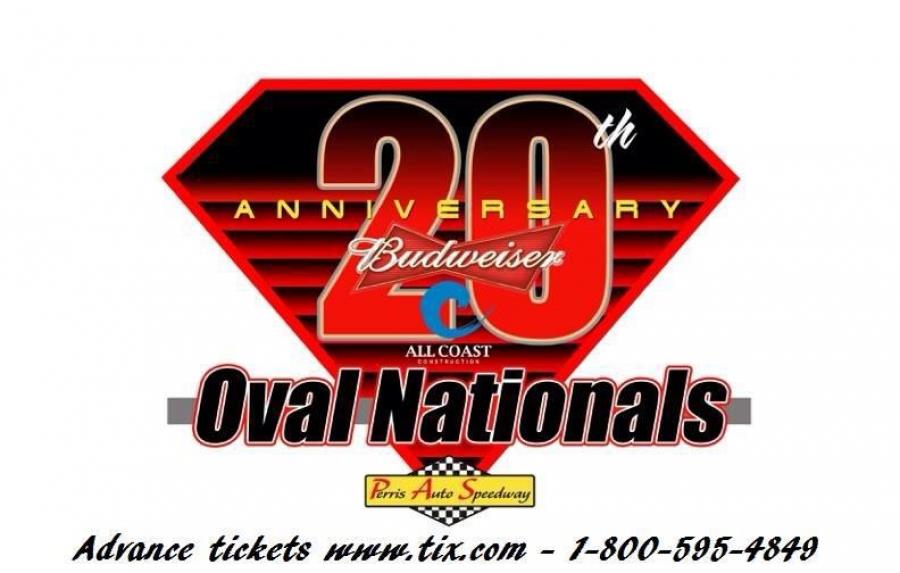 ---
Ballou, Stockon, Darland, Spencer & Gardner Share Spotlight in 20th Oval Nationals at Perris
Five drivers share the spotlight as this week's 20th Budweiser Oval Nationals at Perris Auto Speedway opens Thursday night at the Southern California half-mile dirt track.
AMSOIL National and CRA Sprint Car championships are up for grabs in the series finales Nov. 12-14 at Perris and Nov. 19-21 at Tucson, Ariz. and points this week are critical for the leaders in each series.
Robert Ballou of Rocklin, Calif., Chase Stockon of Haubstadt, Ind. and Dave Darland of Lincoln, Ind. are separated by just 43 points going into Thursday night's Perris opener. Stockon trails Ballou by just 19 points and Darland is just 24 behind Stockon. Damion Gardner of Concord, Calif. holds a slim 22-point lead over Mike Spencer of Temecula, Calif. in the USAC/CRA standings.
The 20th Budweiser Oval Nationals presented by All Coast Construction begins Thursday and continues Friday and Saturday with Saturday's winner claiming a $25,000 paycheck. Second place Saturday is worth $15,000 and third is worth $10,000.
Tony Jones, the 2000 Budweiser Oval Nationals champion, will serve as this week's Grand Marshal. Other previous race winners include Ballou (last year), Darland (2005, 2006 and 2013), Spencer (2012), Gardner (2009 and 2011), Chris Windom (2010), Jesse Hockett (2008), Bud Kaeding (2001, 2002 and 2007), Cory Kruseman (2003 and 2004), Rickie Gaunt (1999), Rodney Argo (1998), Rip Williams (1997) and Jimmy Sills (1996).
Ballou has 10 National victories already this season. Stockon has won twice in 2015, while Darland, the all-time National victory leader with 57 career wins, has four this year. Gardner's eight 2015 wins give him an all-time record 65 in the USAC/CRA series, while Spencer's two wins this season give him a career total of 37.
A clean sweep of the week's races would benefit the winner to the tune of $35,000 since the prelims Thursday and Friday each pay $5,000-to-win.
Pit gates open at noon while spectator gates open at 3pm with cars hitting the track for practice at 5:30pm on both Thursday and Friday night.
On Saturday night, pit gates open at noon and spectator gates at 3pm. Fans will be treated to a drivers' autograph session from 3:00 to 3:45pm on the front straightaway before the sprint cars take to the track at 4:45 for hot laps.
Each of the three nights of the 20th Annual Budweiser "Oval Nationals" presented by All Coast Construction will be aired LIVE on www.thecushion.com on November 12-13-14. There will be a "black-out" in effect for the stream and viewers must live outside of a 100-mile radius of the Perris Auto Speedway to watch the feed.
A three-day package for the "Oval Nationals" can be purchased for $79.99 ($69.99 for Premium and VIP Members), or each night of action can be purchased individually. Races on Thursday and Friday night will be available for $27.99 ($24.99 for Premium and VIP Members), and the Saturday night finale will be available for $32.99 ($28.99 Premium and VIP Members).
Back to News