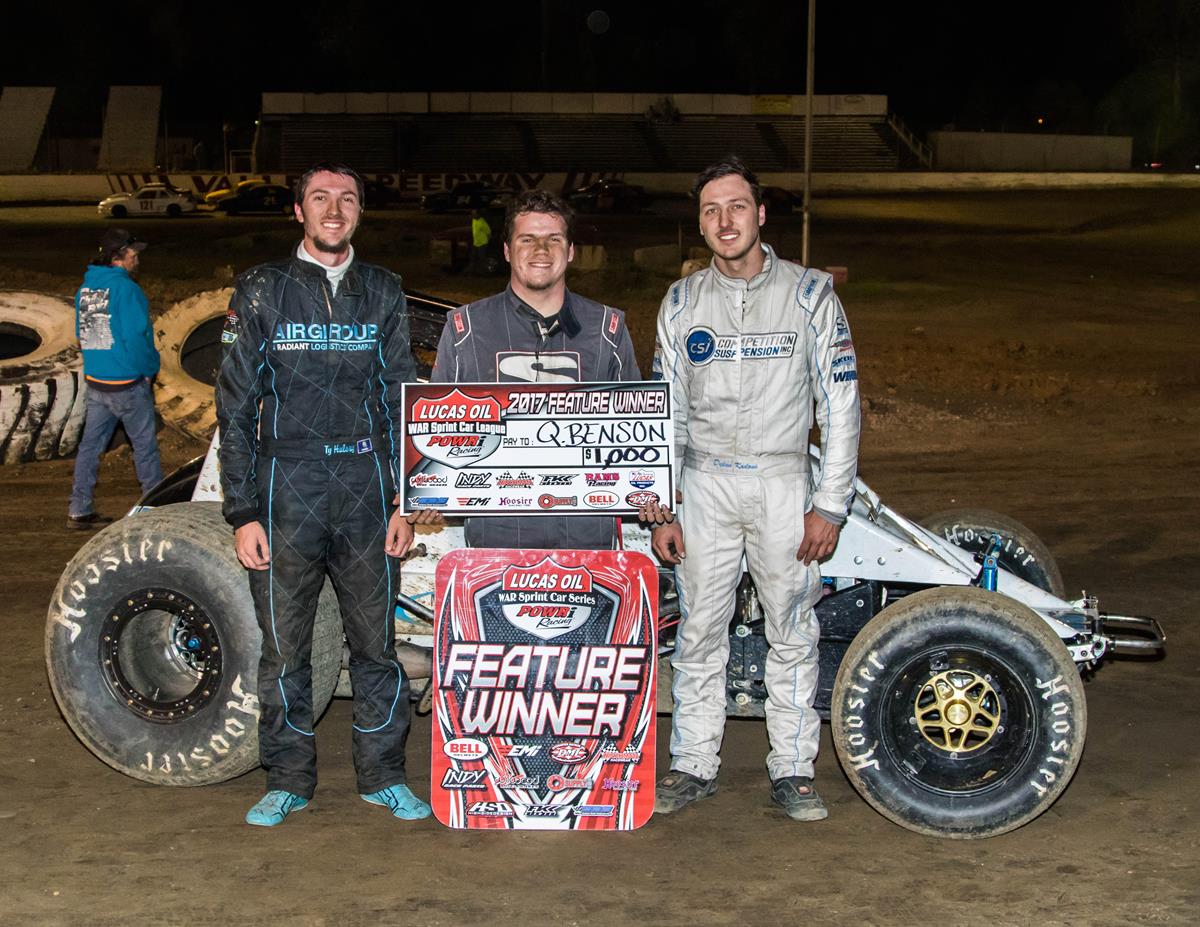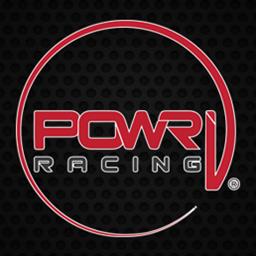 ---
BENSON BLASTS TO FIRST POWRI LUCAS OIL WAR WIN
Grain Valley, MO (April 22, 2017) - After showing solid speed early on in 2017 and being plagued with some bad luck, Quinton Benson picked up his first career POWRi Lucas Oil WAR Sprints win Saturday at Valley Speedway.
Wyatt Burks led the first two laps from the pole. On lap three, Burks slipped high in turn two allowing Benson to get a run down the backstretch to take over the top spot.
Benson would hold off many challenges from Dylan Kadous over the last part of the race as drivers swapped positions behind the lead pair. Ty Hulsey worked his way into contention over the last third of the race as Chris Parkinson, Mitchell Moore, and Korey Weyant swapped positions in the top five as well.
Surviving multiple cautions throughout the 25 lapper, Benson would pick up the win in his QBR/GHR/ Midwest Speed Shop/Speed Shack/ Sea to Sea Transportation Speed Shack Performance 360 powered XXX. Kadous was a strong second in his Watowa-Weber Racing/Competition Suspension/Skoc Enterprises/ Andrew Felker Designs/Randy and Reece Smith Construction Twister with 410 power. Hulsey was the Indy Race Parts Hard Charger as he moved from his eighteenth starting position to third in the Risley's Trash Service/ Auto Glass Unlimited/Risley-powered XXX. Parkinson was fourth in his Country Kid's Daycare/54th Street Bar and Grill/ Design Source Flooring/Kansas City Mavericks/Kevin's Liberty Machine DRC. Moore rounded out the top five in the Kelly Potter owned Moore Racing Engines XXX.
Weyant would end up sixth after getting as far up as third early in the race. Rob Hockett, after an early race spin, would move back up to seventh. Warren Johnson, Craig Carroll, and JD Black would round out the top ten.
The POWRi Lucas Oil WAR Sprints will next be in action on Friday May 5 as they return to Valley Speedway. They will then travel to Wheatland, MO to make their first appearance at the Lucas Oil Speedway on Saturday May 6.
Hinchman Racewear Heat 1 - 8 laps
51-Mitchell Moore, Edgerton, KS (1); 2. 77-Clinton Boyles, Greenwood, MO (2); 3. 15B-Quinton Benson(6); 4. 21-Ryan Kitchen, Lincoln, NE (8); 5. 24C-Craig Carroll, Collinsville, OK (4); 6. 7JR-JD Black, Grain Valley, MO (5); 7. 9L-Hunter Lane, Milo, IA (7); 8. 77K-Katlynn Leer, Moulton, IA (3)-DNF
Wilwood Disc Brakes Heat 2 - 8 laps
11W-Wyatt Burks, Topeka, KS (7); 2. 77H-Rob Hockett, Lone Jack, MO (2); 3. 65-Chris Parkinson, Gladstone, MO (3); 4. 42-Warren Johnson, Overland Park, KS (8); 5. 82-Vinny Ward, Warrenton, MO (3); 6. 88-Chad Tye, Independence, MO (6); 7. 5-Cameron Hagin, Broken Arrow, OK (1)-DNF; 8. 95-Rik Forbes, Omaha, NE (4)-DNF
Bell Helmets Heat 3 - 8 laps
99-Korey Weyant, Springfield, IL (1); 2. 31-Dylan Kadous, Topeka, KS (4); 3. 22S-Slater Helt, Harrisonville, MO (6); 4. 38-Cody Baker, Lone Jack, MO (7); 5. 65M-TJ Muths, Sedalia, MO (2); 6. 24H-Ty Hulsey, Owasso, OK (5); 7. 93-Steve Mahannah, Springfield, MO (3)
POWRi Lucas Oil WAR Sprints A Main - 25 laps
15B-Benson (3); 2. 31-Kadous (2); 3. 24H-Hulsey (18); 4. 65-Parkinson (9); 5. 51-Moore (5); 6. 99-Weyant (6); 7. 77H-Hockett (12); 8. 42-Johnson (8); 9. 24C-Carroll (13); 10. 7JR-Black (17); 11. 93-Mahannah (20); 12. 82-Ward (14); 13. 9L-Lane (19); 14. 22S-Helt (4)-DNF; 15. 88-Tye (16)-DNF; 16. 65M-Muths (15)-DNF; 17. 5-Hagin (21)-DNF; 18. 38-Baker (10)-DNF; 19. 11W-Burks (1)-DNF; 20. 77-Boyles (11)-DNF; 21. 21-Kitchen (7)-DNF; 22. 77K-Leer (DNS) 23. 95-Forbes (DNS)
Photo Credit: Redlined Photography
---
Article Credit: Chad Buford
Article Media
Back to News