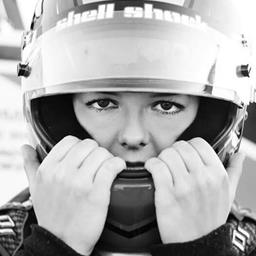 Katlynn Leer
Moulton, IA
Driver Information
Katlynn Leer's passion for racing and the dirt tracks began before she could even walk, spending Friday and Saturday nights at the track watching her father. She began her own driving career at just 7 years old in flat karts at the local dirt tracks in Iowa and Missouri. In only her 5th main event victory lane answered and Katlynn was hooked, never looking back.
The next few years brought many victories but no year was better than 2010 when she raced 42 main events and won 28 of them. By 2011 Katlynn moved into a micro sprint in the Midwest as well as a USAC ignite midget on the west coast. That same year she claimed the VRA track championship as well as Rookie of the Year. She once again found herself in victory lane a few times the following season and was ready for more.
In 2013 Katlynn had continued success competing with the POWRI, USAC and Badger series' and would step into a NASCAR K&N Pro Series car testing for Derrike Cope at the Motor Mile Speedway in Dublin, VA. She finished the season being selected for the NASCAR/Rev Racing Drive For Diversity Combine in Langley, VA.
Katlynn's dabbling into asphalt racing would continue into 2014 where she would make her ARCA & ARCA Truck Series debuts in the same weekend, setting records in both as well as returning to the NASCAR/Rev Racing D4D Combine.
By the next race season she would race a full schedule with the ARCA Truck Series, and would claim the 2015 Holley Performance Rookie of the Year title setting 11 other records within the series. Katlynn also ran her midget on the off weekends and added the Annual Chili Bowl Nationals, Indiana Midget week, and The Pepsi Nationals to her resume.
2016 was yet another new adventure for Katlynn as she strapped into a 410 non-winged sprint car for the first time. She raced the full WAR Series schedule for KCBJ Motorsports finishing with some impressive stats for her rookie year. But Katlynn is not one to leave her roots behind as she also participated in two of her favorite midget events, The 30th Annual Chili Bowl Nationals and The Pepsi Nationals.
2017 has started off with an exciting week at Chili Bowl Nationals with Katlynn landing a ride in the legendary #11 midget of WilkPAK Motorsports. She will race the full POWRi/WAR schedule as well as a few USAC sprint & midget shows.
Under the Helmet with Katlynn Leer
Home Town: Moulton, Iowa
Occupation: Driver/ Student
D.O.B: December 8, 1998
School: Moulton-Udell High School Class of 2017
Fast Facts:
Favorite Food: Spaghetti
Favorite Music: R&B Hip-Hop
Favorite Movie: Dirty Dancing
Favorite Drivers: Jac Haudenschild & Tony Stewart
Favorite Track: St. Francois Co. Raceway
Hobbies/Interested: Family, Sports, Fitness, Reading, Outdoors
Siblings: Kadarenna & Kendra
Goals: Use my platform in racing to set a good example, mentor, and inspire younger generations. Win a USAC championship & Chili Bowl Nationals. Make it to NASCAR Sprint Cup or Indy Car
•2006-2009- 1st kart win in 5th event, Won over 100 kart features
•2010- Won 28 of 42 feature events
•2011- USAC IGNITE MIDGET- VRA Track Championship & Rookie of the Year
12 top 5 finishes
•2012- First midget feature win at Avon, IL
First USAC IGNITE win at Antioch, CA
2 feature wins, 6 heat race wins, 12 top 3, & 18 top 5 finishes
•2013- 2 feature wins, 5 top 5 finishes, & 9 top 10 finishes in midgets
Tested K&N Series car for Derrike Cope
•2014- National Midgets- 2 heat race wins, 6 top 5, & 11 top 10 finishes
ARCA TRUCK SERIES: Youngest driver as well as youngest female driver to start an event
Highest finishing female in series history.
ARCA RACING SERIES: Youngest driver to start an event
•2015- ARCA TRUCK SERIES: Holley Performance ROY
Set 11 new records for a female in series history
1 top 5 & 9 top 10 finishes
•2016 WAR SPRINT CAR SERIES:
7th in points
2 heat race wins, 2 top 5, & 5 top 10 finishes
12th Pepsi Nationals
Recommendations
No recommendation information