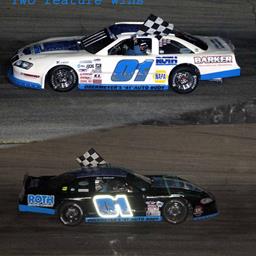 Ryan Gutknecht
Oak Creek, WI
Driver Information
Ryan started in 2005 racing entry level full bodied Enduro, Thunder Stock, and Super Stock cars in southeast Wisconsin. In 2008, Ryan made his first start in the Mid-American stock car series. In 2012, Ryan was named most improved driver and in 2016, won the season points championship in the Mid-American Stock Car Series. The cars he raced and sponsorships were primarily provided by Ryan's Uncle Bobby Gutknecht.
Ryan Gutknecht Racing started in late 2015 when Ryan and his team branched out on their own when they began building their first late model with a limited amount of funding. He began racing full time in the late model in 2016 at southeast Wisconsin primarily racing on Sunday nights at Slinger Speedway in Slinger WI. In 2016, Ryan and the team won their first feature race and Rookie of The Year honors at Slinger Speedway.
In 2017, the team returned to Slinger Speedway running a full 16 race season schedule with a goal of winning the season long track championship. That goal was accomplished on September 10th, 2017. The team won five feature races and finished in the top 5 in seven other races totaling 12 top five finishes in 16 total races. In addition to the 1st place finish for the season long championship, the team finished 3rd in the annual Slinger Nationals late model race on July 18th. Ryan also raced in the Midwest sportsman class at slinger speedway. He won the Midwest sportsman championship in 2017 becoming the first driver to ever win championships in two divisions in the same year at slinger speedway in the tracks 70 year history.
2013 Slinger Speedway Midwest Sportsman Rookie of the Year
2014 Slinger Speedway Midwest Sportsman Champion
2015 National Short Track Champion
2016 Mid American Stock Car Champion
2016 Slinger Speedway Late Model Rookie of the Year
2017 Slinger Speedway Late Model Champion
2017 Slinger Speedway Midwest Sportsman Champion
Recommendations
No recommendation information