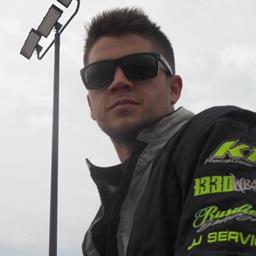 Luke Lemmens
De Pere, WI
Driver Information
Keep up to date on the #007 IMCA Modified & Stock car of Luke Lemmens.
Official page for Luke Lemmens, a 2nd generation driver entering his 13th year of Dirt Track Racing, 3rd year in the IMCA Modified and 5th year in the IMCA Stock Car. Luke has competed in Go-karts, The Sport Four, IMCA Hobby Stock, IMCA Stock Car & IMCA Modified divisions, Posting feature wins in each division.
His addiction to racing started at the very young age of 1-1/2 and still has the same addiction 23 years later. By the age of 4, Luke would travel all around the midwest to follow his Dad (Rick) compete in the Mid-American Touring Series, While always wearing his favorite Davey Allison racing helment. During those years, Luke found his idols, His Dad, Greg Haese & Eugene Gregorich Jr. They are the ones he looked up to and helped fuel his passion for the sport. A short 3 year later would find himself racing himself in the Box Stock Go-Kart Series. During his Freshman year of High School, Luke would make the switch to the dirt and find himself in the 4 cylinder division. But that wouldn't last long and would make the jump up to the IMCA Hobby Stock Division 2 years later. After a career year in 2010 where he won 10 Features, 2 Track Championships and a State title, Luke would then again move up a class and join the IMCA Stock Car Division. During his rookie season, Luke found success right away, landing 2 feature wins in the season. But just like before, he would then again move up 3 years later to the IMCA Modified Division.
Look for Luke to compete every Friday and Saturday nights at Luxemburg Speedway, 141 Speedway and appearing through out the midwest during special events.
2010 141 Speedway IMCA Hobby Stock Track Champion
2010 Thunderhill Raceway IMCA Hobby Stock Track Champion
2010 IMCA Hobby Stock Wisconsin State Points Champion
2011 Luxemburg Speedway IMCA Stock Car Rookie of the Year
2011 Thunderhill Raceway IMCA Stock Car Rookie of the Year
2014 IMCA Facebook Best Appearing IMCA Stock Car
2014 IMCA Stock Car 141 Speedway Clash @ the Creek Winner
2014 IMCA Stock Car 141 speedway Creek Classic Winner
2014 IMCA Stock Car Chilton Fall Invitational Winner
2015 IMCA Modified Chilton Fall Invitational Winner
35 Career Feature Wins
Recommendations
No recommendation information