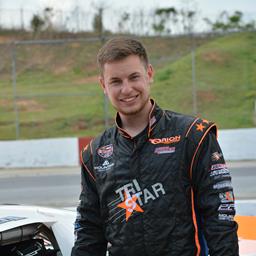 Anthony Miller
Asheville, NC
Driver Information
24-year-old Anthony Miller is a fourth-generation racer from Asheville, NC. He is part of the Pressley family Racing legacy from Asheville Motor Speedway. His family has been racing for over 50 years. In 1999 the Asheville Motor Speedway closed and ended this long heritage of family racing for Anthony at the age of two. That didn't stop this family of racers, they continued to race in other locations with Anthony by their side. Anthony plans to continue his family legacy by racing his way to NASCAR.
Anthony began attending races at Asheville Motor Speedway as soon as he could sit up. Beginning at the age of 4 Anthony was in the pits observing the crews work on their cars and doing all he could to help. He rolled tires around the pit area and pretended to jack up the car. At the age of 5, Anthony started racing slot cars. He became very competitive and won many races and championships while racing at the local track and traveling around North Carolina and surrounding states competing in championship races. Anthony always took the time to listen and learn from the advanced drivers and helped others that weren't doing that well. Slot car racing developed a competitive edge in this young racer.
Anthony's mom kept him around racing as much as possible. She has supported his dreams and ambitions and continues to work hard to help him achieve his goals. She took Anthony to all the races no matter where they were to be with his Uncle as he raced his late model. Anthony helped him in the garage as well as in the pits as much as he could. Anthony won his first race at Newport Speedway at the age of 5 in a big wheel. He has always been hands-on with the race car any time he was around one. If you showed him one time how to do it, you wouldn't have to tell him again, he is a quick learner and forgets nothing. Anthony has a passion for racing that shows his strong desire to succeed and achieve his goals. He takes pride in what he does and has become a bit of a perfectionist. At the age of 15, Anthony's mom started Anthony Miller Racing with Anthony as the driver. On a limited budget and with the help of friends and family Anthony's career began. In 2020 Anthony joined Empire Racing Driver Development and Grumpy's Performance to continue progressing in his racing career.
In 2021, Anthony graduated from UNC Charlotte with his Bachelor's Degree in Mechanical Engineering with a concentration in Motorsports.
2015 - Rookie of the Year at Newport Speedway
2016 - First career pole
2016- First career win at Greenville-Pickens Speedway
2016 - Finished 2nd in championship in the South East Limited Late Model Series.
2017 - Won South East Limited Late Model Challenger Championship
Fishing, bowling, working on cars, basketball, video games
Favorites
Track

Greenville-Pickens Speedway

Driver

Matt Kenseth

Movie

Fast and Furious

Sports Team

Carolina Panthers
Recommendations
Fast Food

Zaxby'a

Gas Station

QT

Beverage

Sprite

Hotel

Hampton