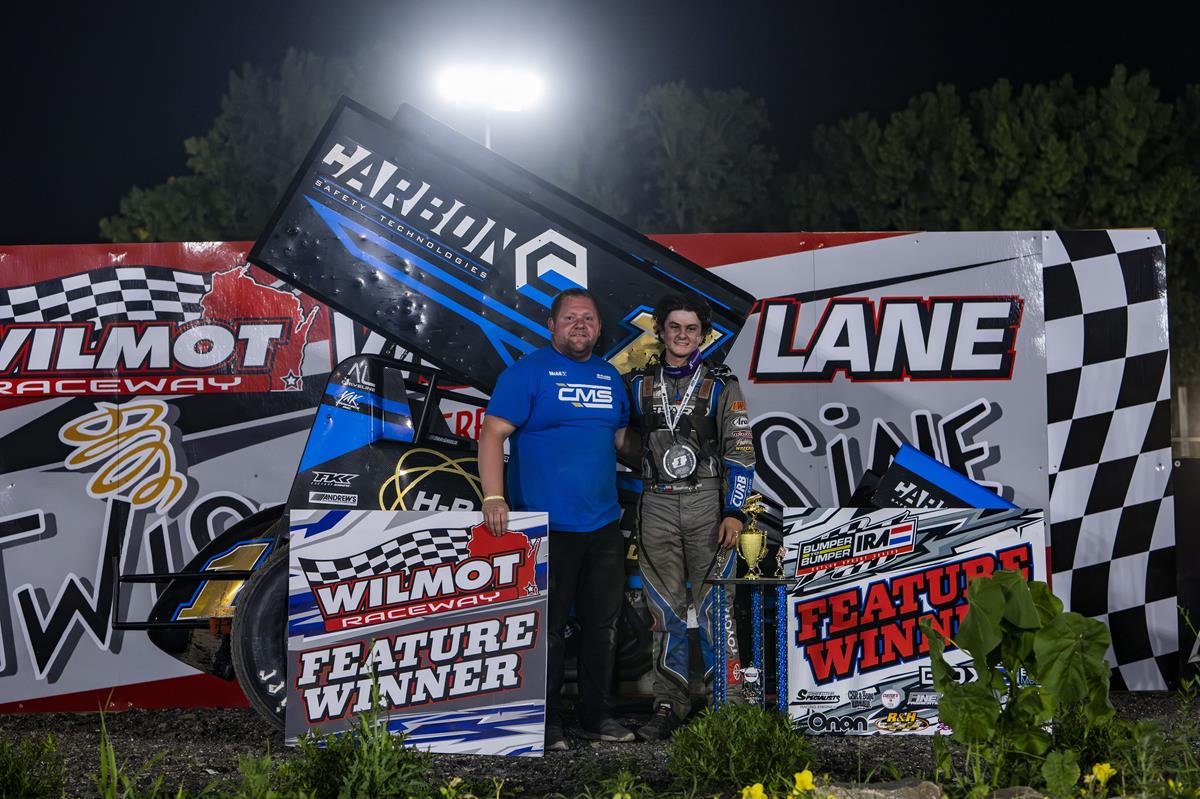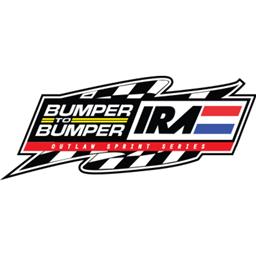 7/30/2023
IRA Interstate Racing Association
---
CROUCH CAPTURES FIRST IRA FEATURE WIN
CROUCH CAPTURES FIRST IRA FEATURE WIN
By: Gracie Cleveland
Photo credits to Emily Schwanke
38 drivers from 9 different states checked in at Wilmot Raceway for The 10th Annual IRA Founders Night this past Saturday.
Tim Estenson and Scotty Thiel would make up the front row of the 25 lap 24 car feature.
When the green flag dropped Thiel took the early lead from Estenson coming out of turn 2. Going for the lead, Balog approaches turn 4 from the cushion, to then throw a slider at Estenson creating a tight battle for second until lap three where Balog secured second.
With 18 laps to go, Balog closes in on Thiel to lead the pack, while Crouch sneaks up on Estenson to secure the third position. Joel Myers Jr. followed closely behind Crouch to grab the fourth position from Estenson. Balog continues to lead through lap traffic to put a few cars between himself and Thiel.
As laps enter single digits, Thiel still trails behind Balog. Crouch finds his line up on the top of the track, and begins to close in on Thiel with 8 laps remaining. Thiel and Crouch continue to battle with lap traffic as four laps remain. Crouch charges to end up side by side with Thiel in turn 2; Crouch gets a drive off the bottom to end up in the second podium position.
Yellow flies with three laps to go. The North Pole Nightmare Bill Balog gets up on and over the cushion, causing him to spin and stop in turn 4. He re-joined at the tail.
The Sage Fruit Hepfner Racing Products Rookie Brenham Crouch would lead the green, white, checkered restart with The Big Wheel Scotty Thiel and Santa Rosa native Joel Myers Jr. in the final two podium spots. Charging on the restart, Crouch continued his lead to put 2 car lengths between him and Thiel on laps 23 & 24.
Yellow flag flies right before the white flag drops. The Rockstar Energy Drink 65 of Jordan Goldesberry spins while looking in on a top 5 spot. He ends his night on lap 24 with some front end damage.
Two laps to go on the final restart of the night. Crouch leads lap 24 and takes the white flag. Thiel trails 4 car lengths behind with Myers Jr. in third. Brenham Crouch takes the checkered flag at Wilmot Raceway to check off his first career IRA feature win. The Big Wheel Scotty Thiel and Santa Rosa native Joel Myers Jr. round out the podium for the 10th Annual IRA Founders Night.
The Bumper to Bumper IRA Sprint Car Series will take the next two weekends off, and will return to Wilmot Raceway for the Kenosha County Fair & Roger Illes Tribute Night on August 19th, and Angell Park Speedway for Cornfest to continue the action packed doubleheader stretch.
410 Sprints - Winged 38 Entries
A Feature 25 Laps | 00:25:15.238
1-Brenham Crouch[5]; 2. 73-Scotty Thiel[2]; 3. 46-Joel Myers Jr[7]; 4. 14T-Tim Estenson[1]; 5. 25T-Travis Arenz[14]; 6. 3N-Jake Neuman[8]; 7. 10W-Mike Reinke[6]; 8. 23-Russel Borland[15]; 9. W20-Greg Wilson[12]; 10. 17B-Bill Balog[3]; 11. 25-Danny Schlafer[9]; 12. 2W-Scott Neitzel[13]; 13. 26-Tyler Tischendorf[16]; 14. 7A-Will Armitage[18]; 15. 79-Blake Nimee[19]; 16. 19-Todd Daun[17]; 17. 49-Josh Schneiderman[22]; 18. 4K-Kris Spitz[24]; 19. 87A-Austin Hartmann[10]; 20. 68-Dave Uttech[4]; 21. 10V-Matt VandeVere[23]; 22. U2-Jack Vanderboom[20]; 23. 65-Jordan Goldesberry[11]; 24. 16C-Tylar Rankin[21]
B Feature 12 Laps | 00:08:55.000
16C-Tylar Rankin[1]; 2. 49-Josh Schneiderman[2]; 3. 10V-Matt VandeVere[6]; 4. 4K-Kris Spitz[17]; 5. 21-Will Gerrits[4]; 6. 19CW-Ion Stear[3]; 7. 70-Chris Klemko[5]; 8. 3B-Shelby Bosie[10]; 9. 34-Kevin Hinich[9]; 10. 43-Jereme Schroeder[8]; 11. 38-Allen Hafford[11]; 12. 39D-Michael Decker[13]; 13. 16-Anthony Knierim[12]; 14. 65X-Russell Deblauw[15]; 15. (DNS) 99-Tyler Brabant; 16. (DNS) 24-Scott Conger; 17. (DNS) 55-Austin Deblauw
Dash 1 4 Laps
14T-Tim Estenson[1]; 2. 17B-Bill Balog[5]; 3. 1-Brenham Crouch[4]; 4. 46-Joel Myers Jr[3]; 5. 25-Danny Schlafer[2]
Dash 2 4 Laps
73-Scotty Thiel[1]; 2. 68-Dave Uttech[2]; 3. 10W-Mike Reinke[3]; 4. 3N-Jake Neuman[5]; 5. 87A-Austin Hartmann[4]
Heat 1 8 Laps
17B-Bill Balog[4]; 2. 65-Jordan Goldesberry[1]; 3. 2W-Scott Neitzel[2]; 4. 1-Brenham Crouch[3]; 5. 79-Blake Nimee[7]; 6. 16C-Tylar Rankin[5]; 7. 24-Scott Conger[9]; 8. 34-Kevin Hinich[8]; 9. 65X-Russell Deblauw[10]; 10. (DNF) 9K-Kyle Schuett[6]
Heat 2 8 Laps
14T-Tim Estenson[2]; 2. 25-Danny Schlafer[3]; 3. 23-Russel Borland[1]; 4. 46-Joel Myers Jr[4]; 5. 19-Todd Daun[6]; 6. 19CW-Ion Stear[7]; 7. 70-Chris Klemko[5]; 8. 38-Allen Hafford[8]; 9. 39D-Michael Decker[9]
Heat 3 8 Laps
68-Dave Uttech[2]; 2. 25T-Travis Arenz[9]; 3. 10W-Mike Reinke[4]; 4. 87A-Austin Hartmann[1]; 5. 7A-Will Armitage[6]; 6. 49-Josh Schneiderman[3]; 7. 43-Jereme Schroeder[8]; 8. 3B-Shelby Bosie[5]; 9. 99-Tyler Brabant[10]; 10. 4K-Kris Spitz[7]
Heat 4 8 Laps
73-Scotty Thiel[4]; 2. W20-Greg Wilson[1]; 3. 3N-Jake Neuman[3]; 4. 26-Tyler Tischendorf[5]; 5. U2-Jack Vanderboom[9]; 6. 21-Will Gerrits[2]; 7. 10V-Matt VandeVere[6]; 8. 16-Anthony Knierim[8]; 9. (DNF) 55-Austin Deblauw[7]
Qualifying A | 00:11:24.000
17B-Bill Balog, 00:12.649[12]; 2. 46-Joel Myers Jr, 00:12.696[9]; 3. 1-Brenham Crouch, 00:12.739[11]; 4. 25-Danny Schlafer, 00:12.772[1]; 5. 2W-Scott Neitzel, 00:12.775[6]; 6. 14T-Tim Estenson, 00:12.875[5]; 7. 65-Jordan Goldesberry, 00:12.944[16]; 8. 23-Russel Borland, 00:13.035[3]; 9. 16C-Tylar Rankin, 00:13.154[7]; 10. 70-Chris Klemko, 00:13.162[10]; 11. 9K-Kyle Schuett, 00:13.218[19]; 12. 19-Todd Daun, 00:13.239[13]; 13. 79-Blake Nimee, 00:13.252[4]; 14. 19CW-Ion Stear, 00:13.421[14]; 15. 34-Kevin Hinich, 00:13.483[15]; 16. 38-Allen Hafford, 00:13.578[17]; 17. 24-Scott Conger, 00:13.592[2]; 18. 39D-Michael Decker, 00:13.969[8]; 19. 65X-Russell Deblauw, 00:14.504[18]
Qualifying B | 00:09:22.000
10W-Mike Reinke, 00:12.647[12]; 2. 73-Scotty Thiel, 00:12.815[10]; 3. 49-Josh Schneiderman, 00:12.978[13]; 4. 3N-Jake Neuman, 00:13.002[16]; 5. 68-Dave Uttech, 00:13.045[3]; 6. 21-Will Gerrits, 00:13.053[2]; 7. 87A-Austin Hartmann, 00:13.091[5]; 8. W20-Greg Wilson, 00:13.117[9]; 9. 3B-Shelby Bosie, 00:13.158[18]; 10. 26-Tyler Tischendorf, 00:13.286[14]; 11. 7A-Will Armitage, 00:13.294[19]; 12. 10V-Matt VandeVere, 00:13.306[8]; 13. 4K-Kris Spitz, 00:13.331[7]; 14. 55-Austin Deblauw, 00:13.400[4]; 15. 43-Jereme Schroeder, 00:13.415[11]; 16. 16-Anthony Knierim, 00:13.423[15]; 17. 25T-Travis Arenz, 00:13.450[17]; 18. U2-Jack Vanderboom, 00:13.451[6]; 19. 99-Tyler Brabant, 00:13.592[1]
Hot Laps | 00:11:35.000
10W-Mike Reinke[31]; 2. 73-Scotty Thiel[29]; 3. 16-Anthony Knierim[34]; 4. 7A-Will Armitage[38]; 5. 17B-Bill Balog[12]; 6. 3N-Jake Neuman[35]; 7. 49-Josh Schneiderman[32]; 8. 3B-Shelby Bosie[37]; 9. 25T-Travis Arenz[36]; 10. 21-Will Gerrits[21]; 11. 19CW-Ion Stear[14]; 12. 25-Danny Schlafer[1]; 13. 65-Jordan Goldesberry[16]; 14. 19-Todd Daun[13]; 15. 10V-Matt VandeVere[27]; 16. 1-Brenham Crouch[11]; 17. U2-Jack Vanderboom[25]; 18. W20-Greg Wilson[28]; 19. 9K-Kyle Schuett[19]; 20. 26-Tyler Tischendorf[33]; 21. 43-Jereme Schroeder[30]; 22. 16C-Tylar Rankin[7]; 23. 14T-Tim Estenson[5]; 24. 2W-Scott Neitzel[6]; 25. 68-Dave Uttech[22]; 26. 4K-Kris Spitz[26]; 27. 23-Russel Borland[3]; 28. 34-Kevin Hinich[15]; 29. 38-Allen Hafford[17]; 30. 79-Blake Nimee[4]; 31. 24-Scott Conger[2]; 32. 70-Chris Klemko[10]; 33. 39D-Michael Decker[8]; 34. 99-Tyler Brabant[20]; 35. 65X-Russell Deblauw[18]; 36. 87A-Austin Hartmann[24]; 37. 55-Austin Deblauw[23]; 38. 46-Joel Myers Jr[9]
---
Article Credit: Gracie Cleveland
Submitted By: Gracie Cleveland
Article Media
Back to News