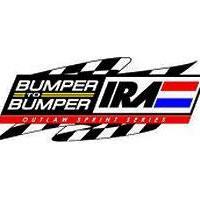 IRA Interstate Racing Association
Series Information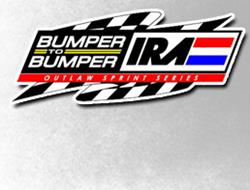 Bumper to Bumper IRA Outlaw Sprint Series
The Interstate Racing Association commonly known as the Bumper to Bumper IRA Outlaw Sprint Series is a regional winged/410 Outlaw Sprint Car sanctioning body. The name "Interstate Racing Association" came from the fact that the racers hailed from southeast Wisconsin and Northern Illinois and the tracks they competed at, such as Wilmot and the Waukegan Speedway, were just over the border from each other off of the I-94 corridor.
The IRA was founded in the mid 1960's and competed in their early years as winged Super Modifieds, and at the time they also competed on both dirt and pavement tracks. By the mid 70's the group had converted to sprint cars, and eventually to an all dirt schedule. Wilmot Speedway was the home of Saturday night Sprint Car racing for many a year, and the car counts were always huge!
In 1993, the IRA chose to hit the road with more frequency and began competing at several other venues. They actually ventured as far as Davenport, Iowa, for a few dates. From there the IRA became a full blown regional traveling series with J&L Oil and United Trailers on board as sponsors, and the support of top local stars such as Darrell Dodd, Gib Wiser, Dave Moulis, Frank Filskov, Al Schmidt, Larry Hillerud, Dale Peterson, and many more. As time progressed the series added Michigan, Indiana, and Ohio to their schedule. Car counts remained solid and sponsorship increased as Bumper to Bumper Auto Parts & Service Centers came on board as a title sponsor, while Osborn & Son Trucking and Midwest Underground brought local support.
The series had a great following of teams from their core southern Wisconsin & northern Illinois base, and several outsiders would even compete in an IRA event from time to time. Joe Roe would go on to claim multiple titles and become an IRA legend, while Kim Mock and Donny Goeden would also claim championships during this time frame. This time frame which included IRA's first visit to Knoxville Raceway, as well as going as far as Attica Raceway Park to the east. Big time sprint car stars like Craig Dollansky, Danny Lasoski, Joey Saldana, Terry McCarl, Gary Wright, Danny Smith, and a host of others would drop in and give the series more national press. The IRA was fast becoming one of the country's premier regional 410 sanctions. IRA was co-sanctioning races with Knoxville and the All-Stars, and building quite a name for themselves, and Minnesota was now hosting the IRA too. John Haeni would claim a title, followed by Roe's 9th, and Mock's 2nd. IRA had made a name for themselves and played a major role in the inaugural 1200 Pound Nationals at Knoxville, a race IRA's Scotty Neitzel almost stole running upfront all weekend long. Neitzel would go on to claim a pair of titles followed by Minnesota driver Travis Whitney taking two of his own. Guys like Brooke Tatnell were dropping in more and more and the IRA victory lane became a true listing of the sport's best. Kasey Kahne even captured a 1200 Pound prelim win and posed with the IRA victory lane board.
Then came Bill Balog. His 7 consecutive championships and 18 race wins in the 2012 season was an absolutely outstanding accomplishment, only topped by becoming the first IRA driver to win a World of Outlaws race, on June 25th 2016. Mike Reinke and Scotty Neitzel were the other top dogs in the series throughout Balog's run. In 2015, as Bill Balog stepped away from a full IRA schedule to pursue other races, the door was left open and former USAC and WoO regular Bill Rose would show that consistency was key as he won the championship without a single win. But perhaps the bigger story was the group of series newcomers: Schmidt, Nimee, Thiel, Schultz, Martin, and Mock who were quickly proving they belonged. The 2016 season saw two of those newcomers cement themselves in IRA history as Thiel and Schultz battled with series veteran Scotty Neitzel for the championship. A battle that would come down to the final night and see Jeremy Schultz win his first IRA championship.
In 2017 and beyond the IRA is clearly in good hands, as young guns like Schultz, Thiel, and Nimee continue to get better and veterans like Neitzel, Reinke, and Balog continue to prove they are some of the best sprint car drivers in the mid-west. Stepping away from the drivers, the IRA is also very proud of their longstanding relationship with Bumper to Bumper, as well as other longtime series sponsors like Hoosier Tire, Osborn and Sons, TW Metals, Cummins Onan and Carriage Auto Body. They have also worked hard to create a new relationship and sponsor opportunity with Hopf Farms and the Hopf Farms Bullring Showdown in 2017. These sponsorships will hopefully continue many years into the future.