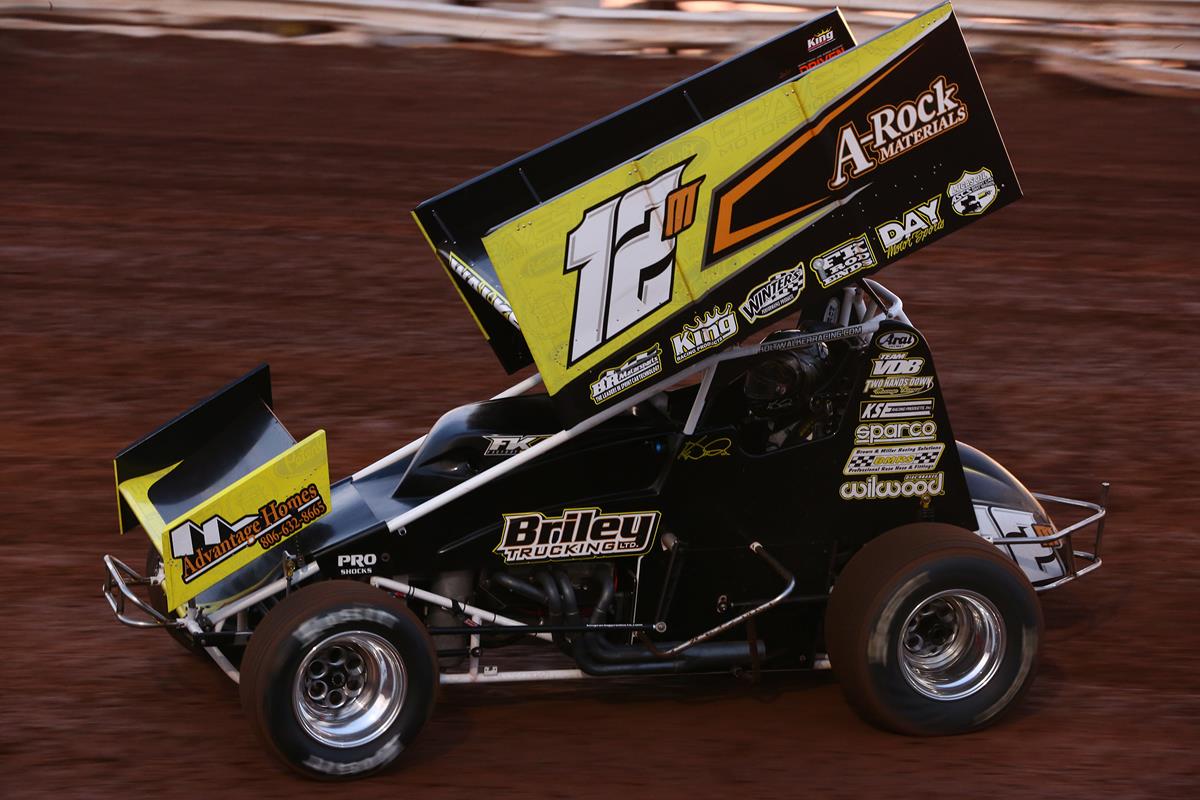 6/16/2014
Inside Line Promotions
---
Graves Motorsports and Kolt Walker Part Ways Effective Immediately
Inside Line Promotions – MESQUITE, Texas (June 16, 2014) – Graves Motorsports is for sale.
After parting ways with driver Kolt Walker this past weekend, the entire Graves Motorsports organization is available for purchase.
"The whole race team – rig, cars, motors, everything – is for sale," Graves Motorsports Co-Owner Jerry Graves said. "All they have to do is get a drivers suit and a helmet to race."
To inquire more information, contact Jerry via e-mail at ARockMaterials@yahoo.com.
Walker said he, his crew and his sponsors are actively seeking a ride to continue competing for the ASCS Lone Star Region championship as well as wins throughout Texas and the Midwest.
"I'm thankful and appreciate the opportunity that Jerry and Donna Graves provided me," he said. "It's time to move on and pursue other opportunities."
The team ended on one of its roughest weekends of the season.
Walker was caught up in a wild crash during the opening laps of his ASCS Lone Star Region heat race last Friday at Timberline Speedway in Corley, Texas. The wreck destroyed the race car and ended Walker's night early.
The weekend concluded on Saturday at Devil's Bowl Speedway for a co-sanctioned event with the Lucas Oil ASCS National Tour and ASCS Lone Star Region. Using the backup car, Walker charged from seventh to third place in his heat race on the hooked-up track.
That earned him a spot in the feature redraw, where he pulled the No. 5 to start the 30-lap main event on the inside of the third row.
"The engine was running warm in the heat race," Walker said. "We richened everything up and did some stuff to the radiator to get more air. It wouldn't go on the takeoff (of the main event). It just lugged real bad and it was getting slower and slower. Around Lap 23 I decided it wasn't worth tearing the engine up so I pulled in to save the engine."
Walker was credited with a 15th-place result.
The team ended the season with a trio of tops fives and seven top 10s in a dozen races. Walker ranks third in the ASCS Lone Star Region championship standings with the next event in the middle of July.
QUICK RESULTS –
June 13 – Timberline Speedway in Corley, Texas – Heat race: DNF (4); Feature: DNS (19).
June 14 – Devil's Bowl Speedway in Mesquite, Texas – Heat race: 3 (7); Feature: 15 (5).
SEASON STATS –
12 races, 0 wins, 3 top fives, 7 top 10s, 9 top 15s, 11 top 20s
MEDIA LINKS –
Website: http://www.KoltWalkerRacing.com
Facebook: https://www.facebook.com/Kolt.Walker?fref=ts
APPAREL –
Graves Motorsports has t-shirts for sale at their race trailer during every event they compete at this season.
PARTNERSHIP OPPORTUNITIES –
Graves Motorsports is searching for additional partners to be able to compete for the ASCS Lone Star Region championship in 2014. For more information about supporting the team, e-mail Kolt at KoltWalker@gmail.com.
SPONSOR SPOTLIGHT – Precision Body Works Inc.
Precision Body Works Inc. is an auto body shop that opened in 1989 and has since formed three locations in Lubbock, Texas. For more information, visit http://www.PrecisionBodyWorksInc.com.
"I want to give a special thanks to Joey Brewer and everybody at Precision Body Works Inc. for their great work and quick turnaround," Walker said.
Graves Motorsports would also like to thank A-Rock Materials, Advantage Homes, Briley Trucking, John and Stefanie Haley, Greg and Samantha Boyle, Two Hands Down Massage Therapies King Racing Products, BR Motorsports, ButlerBuilt Professional Seat Systems, Sparco, Vortex Wings, KSE Racing Products, Wilwood Brakes, Astro Titanium, FK Rod Ends, Vortex Wings, Day Motorsports, A.R.T. Speed Equipment, Winters Performance Products, Factory Kahne, Shell Shock, Sparco, A-Line Auto Parts, KRS Fabrications and Brown & Miller Racing Solutions for their continued support.
INSIDE LINE PROMOTIONS –
Inside Line Promotions specializes in affordable public relations and media management for motor sports drivers, teams, sponsors, tracks, series, events, organizations and manufacturers. ILP Founder Shawn Miller leverages professional journalism with new media technologies and social networking to improve your exposure and the return on investment for your sponsors.
To meet the media relations needs of your program and to join Team ILP, contact Shawn at 541-510-3663 or InsideLinePromotions@gmail.com. For more information on Inside Line Promotions, visit http://www.InsideLinePromotions.com.
---
Article Credit: Inside Line Promotions
Submitted By: Shawn Miller
Back to News