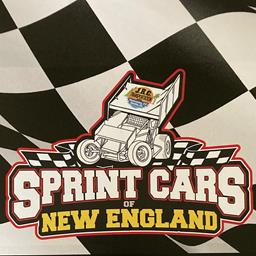 Sprint Cars of New England
Series Information
SCoNE Contact information
If you would like more information on Sprint Cars of New England please contact the Series Director at racingscone@gmail.com SCoNE is always looking for partners to support our series.
SCoNE History Page
SCoNE History Page
Sprint Cars of New England was founded in 2004
Sprint cars on dirt started racing here in New Hampshire in 1993 with Alan Nichols racing a 6 cylinder sprint car against 6 cylinder coupes at Nor-Way Pines Speedway in Wentworth, NH. The car was built by Mike Kondrat for ice racing during the winter months. Then in 1994 the first real sprint car ran when Doug Sanborn competed with a J&J chassis in the "Outlaw Run What Ya Brung" division against dirt modifieds. In 1998 a weekly sprint car division was run in Canaan, NH with about 8 cars in the division. In 2002 a club was formed in New Hampshire. The New England Sprint Car Club was formed and raced at a few different tracks.
The year 2004 is when Jeff Taylor and Mike Kondrat started the Sprint Cars of New England series, with Mike Kondrat taking on the director's role. The SCoNE series would run at the Canaan Fair Speedway which is now closed down, The Bear Ridge Speedway which still runs weekly dirt racing on Saturday nights, and at the track it all started at in Wentworth, NH, which has had many names and is currently RumTown Speedway running weekly dirt races on Saturday nights. The series started off with the hopes of growing the series into something the race fans would enjoy and keeping the cost down to attract more new teams. Mark Cole of West Lebanon, NH was the series first SCoNE champion in 2004. In 2006 the series just ran some exhibition event to try and build the series stronger. That idea worked out as more teams started building sprint cars and supporting the series, and the race fans of the northeast got to see some 360 winged sprint cars racing here in New England. Sprint car racing brings lots of action and excitement to local dirt tracks and had done well since 2004. 2021 will be the series 18th season.
SCoNE would like to THANK YOU, the race fans for your support over the last 17 years and hope you enjoy the series going forward.
PAST SCoNE CHAMPIONS
2004 MARK COLE

2005 Si ALLEN

2006 N/A

2007 SHAWN LAWLER

2008 CHAD DOW

2009 TUNK BERRY

2010 CHRIS DONNELLY

2011 DAN DOUVILLE

2012 CHRIS DONNELLY

2013 CHRIS DONNELLY

2014 CHRIS DONNELLY

2015 DAN DOUVILLE

2016 CHRIS DONNELLY

2017 CLAY DOW

2018 WILL HULL

2019 WILL HULL

2020 CHRIS DONNELLY