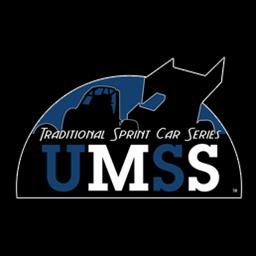 Traditional Sprint Car Series
Series Information
Traditional Sprint Car Series of the UMSS
The Non-Winged Warriors...UMSS Traditional Sprints
The UMSS Traditional Sprint Car Series (TSCS) is a value-based racing organization for the participants, race tracks, and race fans. Based in the Twin Cities, the popularity of the UMSS is gaining momentum by establishing reasonable rules for the participants, an economical purse structure for the race tracks, and an affordable race ticket and fan-friendly program for the race fans. The Traditional Sprint Car Series started in 2011 through the hard work and effort of several individuals who wanted a non-winged alternative to the typical winged sprint cars seen here in our area. The key to its early development and ultimate success was having an affordable rules package in place, especially with the engine. Taking the ever-popular "B" Mod engines in use throughout the region and converting them to run on alcohol proved to be the key element in attracting cars, drivers and teams to the TSCS series. With three full seasons in the books, the non-winged traditional sprints continue to gain in popularity amongst drivers and fans alike.
Go Sprint Car Racing for Under $10,000
With the Upper Midwest Sprint Car Series (UMSS), the economics of sprint car racing have changed for the better. Although the cost of building a sprint car and keeping it on the track continues to increase, the rules for the UMSS Traditional Sprint Car realistically allows the potential participant to build a top-of-the-line car for under $10,000. Good used sprint car rollers cost between $3,000-$5,000, and a competitive engine can be built for between $2,000-$7,000, depending whether you build it yourself, use a professional or buy one used. In addition to the initial low cost, the cost of keeping it on the track is estimated at around $100 per night. For more information, call Ron Bernhagen at 612-363-5302 or Joe Kouba at 612-751-4646. You can check out the current rules and specs here on our website by clicking on the Rules/Forms link under the Series Info heading and then going to the Tradtional Sprint Car category.
Previous TSCS Champions & Rookie of the Year
Previous Traditional Sprint Car Series Champions:
2011 - Kevin Bradwell (Luck, WI)
2012 - Rob Caho, Jr. (Wyoming, MN)
2013 - Rob Caho, Jr. (Wyoming, MN)
Past TSCS Rookie of the Year Award Winners:
2012 - Denny Stordahl (Milltown, WI)
2013 - Mike Mueller (Stacy, MN)
About the UMSS
Race Fans: The UMSS will entertain race fans with our brand of wild-looking race cars and very fast, and sometimes very volatile, racing action at a value-based price. Race fans will appreciate the addition of the UMSS program at the night's traditional cost or a slightly higher ticket price.
The UMSS has a niche in the Upper Midwest for an affordable sprint car series that will attract participants, allow race tracks to put on a special night of racing with something different, and entertain race fans with edge-of-your-seat action. For more information, call Ron Bernhagen @ 612-363-5302