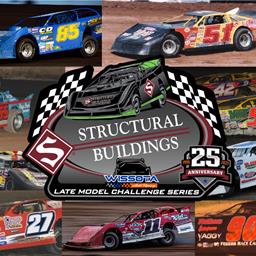 Wissota Late Model Challenge Series
Series Information
Learn about the WISSOTA Late Models!
WISSOTA Late Models are full bodied race cars and the top of the line as far as speed and technology. The rules package allows for a very sleek body design and wide Hoosier racing tires. Under the hood, most WISSOTA Late Model drivers have roughly 360 cubic inch engines with 500 or more horsepower; those who choose to can also run an engine with up to 410 cubic inches along with a carburetor restrictor plate. The Late Models have generous spoilers coming off the rear deck of the car and you'll often see them coming off the turns with their left front tire raised in the air. The chassis are highly tuneable and very sensitive to adjustments. In the WISSOTA region, virtually all Late Model racers burn methanol rather than gasoline. In many regions of the country, Dirt Late Models are the premier division.
Learn About Structural Buildings
Structural Buildings is a General Contractor that has been proudly constructing dreams throughout the Midwest since 1985. We design and construct a wide array of building types from post-frame, steel-frame, masonry, stud wall frame, SIP panel, and tilt-up concrete; ensuring our ability to provide the best type of building to meet all of our customer's individual needs. Whether they want an Agricultural, Commercial, Industrial or Residential Building our team has the expertise to exceed all of their expectations.
With 35 years of proven growth, quality buildings, and excellent customer service at every point of contact, we look forward to helping you make your building dreams a reality too! Find us online at www.structuralbuildings.com or call us today at 1(800)535-9722!
Watch a Late Model on the Track from the Cockpit!