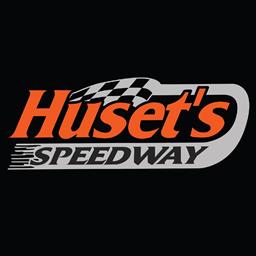 Huset's Speedway
Brandon, SD
Track Information
The track is a fast, 3/8- mile high-banked oval that has become a favorite stop by many sprint car drivers around the world. It opened in 1954 and has seen many transformation and updates since its humble beginning when races were held in the afternoon because the facility didn't even have lights, or a grandstand.
The track has played host to several drivers known on the national level such as Steve Kinser, Sammy Swindell, Doug Wolfgang, Donny Schatz, Tony Stewart, Kyle Larson, Dave Blaney, Kasey Kahne, Jan Opperman, Roger Rager, Shawna Robinson, Ken Schrader and Keith Kauffman.
About Huset's Speedway
Huset's Speedway is a 1/3 mile, high-banked bull ring located just outside of Brandon, South Dakota.
The Track
Huset's Speedway is the area's fastest 1/3 mile high-banked dirt oval. One-lap track record is held by Terry McCarl at 10.317 set on May 10, 2009.
Location & Contact Info
Huset's Speedway is located between Sioux Falls and Brandon, SD on Highway 11. Take I-90 east of Sioux Falls to exit 406, then go south three miles on SR 11.
Physical Address: 2012 S. SPLITROCK BLVD., BRANDON, SD 57005
Employment
Fan Info
Camping information unavailable
No coolers allowed
ATM on site
All major credit cards accepted
Partially paved parking
Grandstand seating
WiFi information unavailable
Family Info
Family seating information unavailable
Playground information unavailable
Family restrooms available
Pit Info
Fans allowed in pits
Pit concessions available
No electricity in the pits
Fuel available at the track
MRP Card accepted at the backgate
Pits located inside the track
Concrete pit surface
Tires available at the track