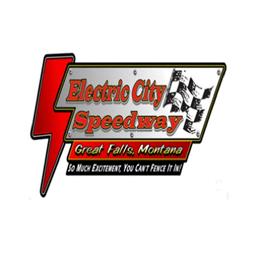 Electric City Speedway
Great Falls, MT
Track Information
ABOUT
Electric City Speedway
Electric City Speedway is located in Black Eagle just ¼ mile North of Great Falls on Hwy 87. Electric City Speedway is a high banked 3/10ths mile clay oval with a wide 80ft of racing surface and a concrete wall perimeter. A full catch fence, featuring electronic scoring. Both raceceivers and transponders are required for competitors at Electric City Speedway. Transponders are required with a limited number available for rent at $20 per event. Details available in the track operations office where drivers also check in for their events.
The competitor pit area is located outside of the backstretch and refreshment/concessions are available. The pit viewing area is as good as they get providing a great up-close view of all the action.
The fan side of things features a comfortable 2000 seat frame grandstand, some with backs. Our refreshment area features a variety of concession food and also a large selection of non-alcoholic and alcoholic beverages. A souvenir stand with a good inventory of fan favorite items is available with lots of apparel options. The track parking lot is large and some areas can be utilized for (free) dry camping.
PETS: Pets are NOT allowed in the grandstand area. The only animals allowed in the facility (except those which are part of an event) are guide dogs to aid the visually impaired, signal dogs to aid the hearing impaired and service dogs to aid the physically disabled. Other animals will not be allowed through the gates. All animals on speedway property MUST be kept on a 6 foot chain and cannot be left unattended.
Track Specs
SURFACE
Clay with 10 degrees of banking.
LENGTH
3/10 Mile
WIDTH
80 Feet in the corners and 60 Feet wide on the straightaway's
SAFETY FENCE
Exterior Concrete wall with full catch fence.
Lighting
Metal Halide.
SCORING
Electronic and manual.
COMPETITOR PIT AREA
A capacity of 75 Cars when including the infield
SPECTATOR SEATING
Frame grandstands with a capacity of 2000.
SPECTATOR PARKING
Regular Events parking just above the speedway ticket booth
CONCESSIONS
Concessions are featured both in the spectator area and the Competitor Pit area. A souvenir shop is also well stocked with kids and adult souvenir items.
LOCATION
1 Mile North of downtown Great Falls on HWY 87 known as 2801 Old Havre Hwy.
Fan Info
No camping allowed
No coolers allowed
No ATM on site
All major credit cards accepted
Gravel parking
Grandstand seating
No Wi-Fi available
Family Info
Open family seating
No play area
No family restrooms
Pit Info
Fans not allowed in pits
No pit concessions
No electricity in the pits
No fuel available at the track
MRP Card accepted at the backgate
Pits located outside the track
Dirt pit surface
No tires available at the track