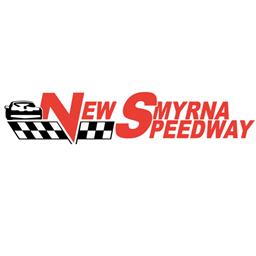 New Smyrna Speedway
New Smyrna Beach, FL
Track Information
New Smyrna Speedway
New Smyrna Speedway (NSS) is a high-banked,half mile paved oval located just five miles west of New Smyrna Beach, FL and only 12 miles from Daytona International Speedway. NSS has been home to some of the finest and most thrilling stock car racing in the entire county for over 50 years.
NSS opened in1967 as a dirt track but was paved six months later to begin hosting the World Series of Stock Car ,nine nights of intense stock car racing during Daytona International Speedway/ NASCAR Speedweeks. Over the half- century that NSS has operated, the track has welcomed numerous famous NASCAR drivers,such as Richie Evans; Donnie, Bobby and Davey Allison; Neil Bonnett; Harry Gant;Tony Stewart; Kyle Busch; Ryan Newman, Kyle Larson and many others. NSS also welcomes up-and-coming stars like Harrison Burton, Todd Gilliland and many others.
NSS is a proud to be apart of the NASCAR Whelen All-American Series, hosting weekly NASCAR grass roots racing from March through Mid November. NSS also play host to numerous special events throughout the years– such as the Red Eye 100 and Orange Blossom 100 in January, the World Series of Asphalt Stock Car Racing in February, the Clyde Hart Memorial 100 in July, Marion Edwards Memorial in September, the Hart to Heart Breast Cancer Foundation 100,the Florida Governor's Cup in November and much more. NSS also hosts the season opener of the NASCAR K&N Pro Series East during the World Series of Asphalt Stock Car Racing.
As a small-town, local venue, NSS is heavily involved in the community by welcoming in local organizations like local schools, boosters, sports teams, and other charitable organizations. NSS's owners also created the Hart to Heart Breast Cancer Foundation at New Smyrna Speedway, which is a non for profit organization that helps those in the local community.
"If you can win at New Smyrna Speedway, you can win anywhere in the United States."- Richie Evans
Fan Info
Tents and campers (no hookups)
No coolers allowed
No ATM on site
VISA and MasterCard accepted
Grass parking
Grandstand seating
Free Wi-Fi in pits and grandstands
Family Info
Open family seating
Free play area
No family restrooms
Pit Info
Fans allowed in pits
Pit concessions available
Free electricity in the pits
Fuel available at the track
Check-in information unavailable
Pits located inside the track
Partially concrete pit surface
Tires available at the track