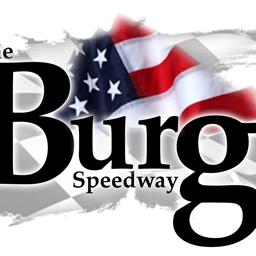 7/14/2021
The 'Burg Speedway
---
Eric Van Iten Memorial Race - Lifetime of Friendship Leads to Historic Event
July 18th's Eric Van Iten Memorial Race is set to be the largest race in the history of the 1/3 mile, clay oval in Luxemburg, Wisconsin. It is also slated to be one of the largest single day events in the history of dirt track racing in the state.
When Eric passed away early in 2021 his longtime friend, Troy "Snoot" DeGrave, knew he had to do something. Troy confided, "Eric passed away from cancer too young in life and I was thinking I wanted to do something to memorialize him because he did a lot for racing and a lot for my racing career." Eric had won the 2000 IMCA Stock Car championship at Luxemburg Speedway and Troy reached out to the Kewaunee County Racing Association (K.C.R.A.) who are promoting races at the rebranded 'Burg Speedway. The group agreed that it would be a fitting tribute to put a memorial race on the schedule. With that the groundwork was laid for one of the biggest nights in North Eastern Wisconsin racing in 2021.
DeGrave set to work beating the brush to get sponsors and donations to put up some additional prize money for the event. "Going into this I never thought it'd get this big." DeGrave continued, "I thought if I raised 7500 bucks it would be a great night to race for a little extra money." Thanks to over 40 different sponsors and countless donations that "little extra money" has ballooned to over $41,000 and is still growing in the week leading up to the event.
Eric and Troy first met all the way back in middle school and went through high school together having fun and getting into trouble. Eric decided to start his racing career in a street stock and Troy served as an early crew member. The final night of his first season in Street Stocks Eric turned the wheel over to Troy and his friend was hooked. The following season Eric moved up to IMCA Stock Cars and Troy bought a Street Stock of his own. The duo both ended up competing in the rough and tumble Stock Car division. Troy admits that Eric came out on top between the two most nights but that only served to strengthen their friendship.
Van Iten moved on from the Stock Cars and stepped into the IMCA Modified division, around that time DeGrave sold his stock car and was contemplating hanging up the helmet. Eric talked him into sticking with racing and trying out the growing IMCA Northern Sport Mod divisions. DeGrave saw the wisdom in that advice and has raced the class ever since. Van Iten found success in the modified division before stepping into a late model to round out a storied racing career. DeGrave thoughtfully recalled, "If it weren't for him I wouldn't be where I'm at with my racing career."
Off the track DeGrave and Van Iten held a close friendship. DeGrave also spent 16 years working for Eric's Directional Drilling Services. Troy noted numerous times Eric lent his time and equipment to the promoters in Luxemburg to help with various projects around the track, always doing so for nothing more than to see the track grow.
The racing community will gather to celebrate this friendship and honor Eric's life and memory with the Eric Van Iten Memorial Race on Sunday, July 18th. This event will be held at The 'Burg Speedway located at the Kewaunee County Fairgrounds in Luxemburg just minutes east of Green Bay on HWY 54. Pit gates will open at 1:00, grandstand gates at 3:00, with racing to begin at 5:00. The night will be highlighted by a $5300 top prize in both the IMCA Modified and IMCA Stock Car divisions. There will be special events through the evening including silent auctions, raffles, and the 50\50 drawing that will benefit Wings Over Wisconsin - Denmark Chapter, which was one of Eric's favorite charities. Grandstand admission is just $10 for adults 14 and over while 13 and under are free with adult admission.
Troy DeGrave and K.C.R.A. would also like to thank all the sponsors and individuals that donated to make this incredible night of racing possible. Troy would also like to give a special thanks to his family for standing by his side while he put in the extra hours making this memorial come to life.
---
Article Credit: Joe Orsini
Back to News