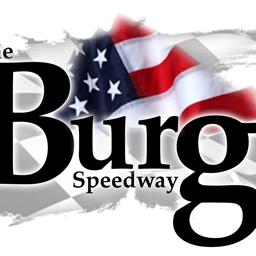 7/25/2021
The 'Burg Speedway
---
Schroeder, Stedjee, DeGrave, and Mann Sweep Hall of Fame Night
Four drivers brought their brooms along for the ride to sweep their way to victory lane on Hall of Fame night. It was a rare night with four out of five divisions seeing feature winners also claiming heat wins. 92 cars checked into the pits to do battle and to honor the 2021 Luxemburg Racing Hall of Fame inductees, Kurt Gretz, Kevin Strebel, and Dave Zeitler.
The Village Kitchen IMCA Modified feature saw Benji LaCrosse's streak of three consecutive feature wins get snapped. Pole sitter Cody Schroeder jumped out front to lead the opening lap and set an early blistering pace until caution flew on lap nine to bunch the field back up. The restart saw Schroeder lead Jeff Bodendorfer, "Big Money" Jay Matthais, Josh Long, and Greg Gretz back to racing. Schroeder was not intimidated by the snarling pack of wolves behind him and jumped back to the lead. Schroeder led the final 11 circuits to lead from green to checker and completed the sweep of the evening after capturing the heat win earlier. Bodendorfer held on for second, Long third, Gretz celebrated his father Kurt's Hall of Fame induction with a strong fourth, and "Felix" Todd Dart came home fifth.
The Quietwoods RV IMCA Stock Cars certainly looked like they could be tamed tonight. Aiden Gretz capitalized on his pole position starting spot to shoot into the early lead to help celebrate grandpa Kurt's Hall of Fame induction. His laps in the lead were limited as Dylan Stedjee was able to fight into the top spot after a handful of laps. Junior Karcz worked smoothly into second a few laps later while Kyle Frederick steadily climbed towards the front from his row four starting spot into third. Stedjee held on for his first career win at The 'Burg while also completing a sweep of the night. Junior Karcz was able to bring his machine home second, Federick third, Aaron Karcz fourth, and Gretz completed the top five.
The IMCA Northern Sport Mod feature proved to be the only event of the evening without a broom in victory lane. Craig Dorner put his 15D machine to the top spot on the opening lap as a strong run out of turn two allowed him to work inside pole sitter, Mackenzie Simonar, to lead the opening laps. It didn't take long for Tim Warner to climb from fifth to challenge for and then take the P1 spot. Dorner fell back to second and found himself in a hotly contested dog fight with Cody Rass who quickly ran from ninth to third. With Rass working the high groove and Dorner running low the pair waged a multi lap war for the runner up spot. Dorner eventually pulled away from the youngster until a late caution flew on lap 15. The wily veteran, Jarred VanLaanen, used every bit of guile in his arsenal to snatch third over the closing laps. At the checkers Warner picked up his first win of the season at The 'Burg, Dorner claimed second, JVL third, Rass fourth, and points leader, Jacob Zellner rounded out the top five.
The Unified Dirt Street Stock event was slated from the beginning to be a barn burner with several heavy hitters in the field set to compete to park their steel stallion in the Tri County Heating\Joski Sewer Service victory lane. "The Muscles from Brussels" Garrett Geyer looked like a seasoned veteran as he led the opening lap but trouble befell the second year driver as he looped his 3G machine coming out of the Showcase Kitchens turn number four completing lap 2. The field was able to avoid his machine and the race continued under green. "The Hammer" Dave Degrave worked his 40D machine into the top spot by lap ten and had his broom ready for victory lane. DeGrave held off all comers and captured his first feature win of the season at the track to go along with the earlier heat race win. Brooke Diefenthaler fought her way from 11th on the starting grid to finish second, defending 2020 champ Adam Crapser scratched and clawed from 14th to third, Justin Jacobsen came home fourth, and Jake Burt had a strong showing with a fifth place finish.
The Quietwoods RV Murder Hornets provided the last chance for a clean sweep on the evening and didn't disappoint in bringing the bristles. Matthew Mann took what he learned in his heat race win to lead the opening lap from the outside of the front row. Mann stretched out a lead and never looked back as he led from green to checkers in the final feature event of the evening. Brett Deprez secured a hard fought second place finish after rolling out ninth on the starting grid, Scott Schlafke came home third, Dallas Topel fourth, and Thomas Schulte finished the top five.
Congratulations again to our 2021 Hall of Fame class, Dave Zeitler, Kevin Strebel, and Kurt Gretz. It was an honor to induct all of you into the Luxemburg Racing Hall of Fame. A special thanks to Tom Wagner for helping us welcome these fine gentlemen into the hall and for his insight in the history of the track and the other hall of fame members. Another thank you to track historian and Hall of Fame Committee Chairman, Steve Haen for his efforts every year in selecting a worthy hall of fame class.
The 'Burg Speedway is back in action next week Sunday for our Village Kitchen Presents: Modmania - Celebrating 35 Years of IMCA Modified Racing in the Village of Luxemburg. We will be running a 35 lap Modified feature to award a $3500 top prize to commemorate this historic event! All five weekly divisions will be in action and we will have the Vintage Modifieds on hand to help make this night even more special.
The 'Burg Speedway is located just east of Green Bay off Hwy 54 in Luxemburg at the Kewaunee County Fairgrounds. Grandstand admission is just $10 for adults 14 and over while 13 and under are free with adult admission. Gates open at 3:00 every Sunday with racing kicking off at 5:00.
---
Article Credit: Joe Orsini
Submitted By: Joseph Orsini
Back to News