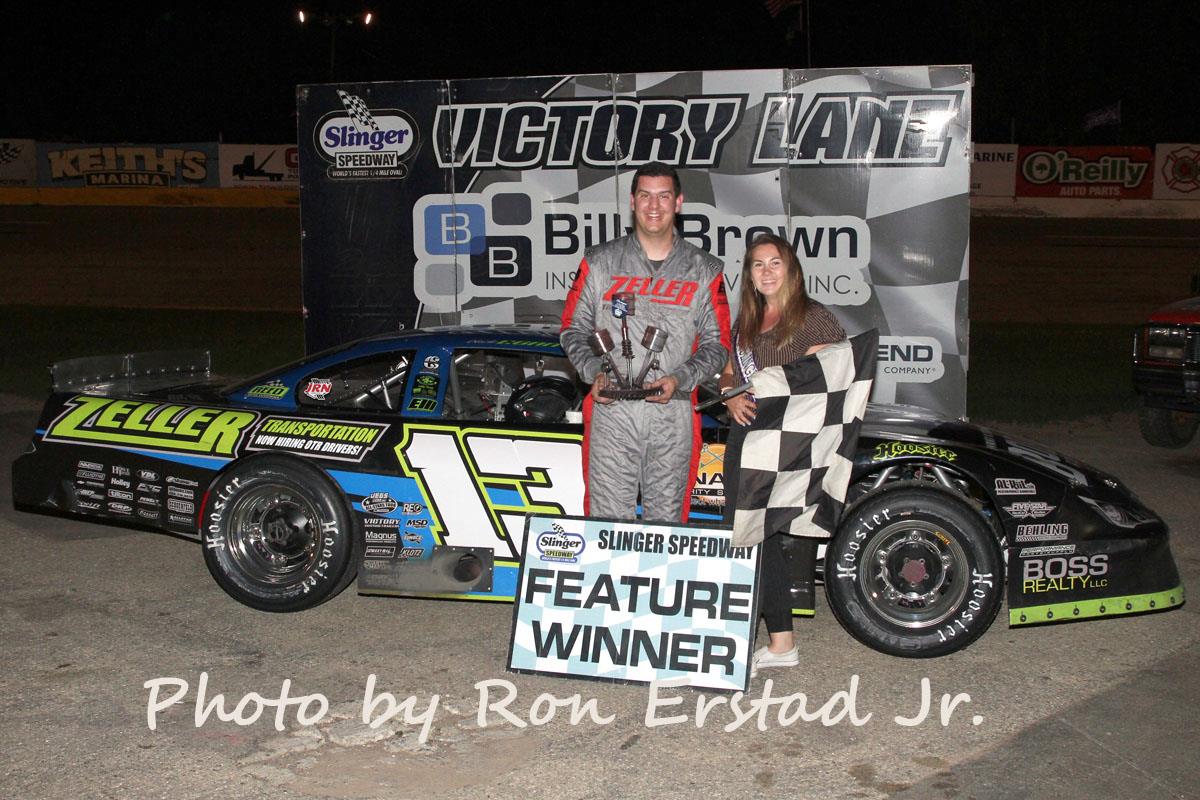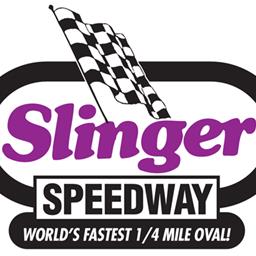 7/31/2022
Slinger Super Speedway
---
Nick Egan tops the Pro Late Models at Slinger
Slinger, Wis., July 31—Nick Egan captured his first Uptown Motorcars Pro Late Model feature win of the season Sunday night at the Slinger Speedway by holding off a fast-closing Jesse Bernhagen in the Obermeyer's 41 Auto Body 50-lap main event.
Egan started fifth and worked his way up to second by lap seven as Jerry Eckhardt paced the opening laps. A lap ten caution for a spin on the front straightaway allowed Egan to choose the outside lane for the restart and he used the top groove to charge into the lead as racing resumed. Once out front, Egan never looked back as Jesse Bernhagen sliced his way through the field and into second place. Bernhagen closed fast on Egan in the waning laps as Egan's car kicked loose off the turns but Egan had enough to turn back the challenge and capture the victory. Bernhagen finished a close second while Ryan Gutknecht took the checkered flag in third and gained significantly in the point standings.
"It was alright and we ended up getting a little bit lucky with some lane choices there and we got out to the lead and were then just trying to save what we had," Egan said from victory lane, "We probably have the smallest motor in the field tonight and I was just happy to race clean. It's always fun racing with Jesse (Bernhagen) and Ryan (Gutknecht) and everyone here."
"I kept messing up and hitting the apron," Egan continued, "I knew Jesse (Bernhagen) was coming because I could see him getting bigger in the mirror and I knew we had a couple of laps left and I just had to hold on."
"Our car is always fast every time we come here but we just can't seem to find victory lane this year, "Bernhagen stated afterwards, "A couple of more laps and I think we could have got it done but congrats to Nick (Egan)."
"When I heard that (point leader) Jeff Holtz had fallen out and Tom Berens was struggling in traffic and with the top two not running for points, I was just trying to keep the car together," Gutknecht said after gaining several points with his third place finish while his closest rivals finished farther back, "And if I could keep it off the fence and try not to hit the front stretch wall like I did three times today, I would be alright. That was the most work we've done on the car all year and I had a blast."
Zach Prunty finished in fourth place and Tom Berens crossed the finish line in fifth. Tyler Schley completed a strong run with a sixth place finish ahead of Jerry Eckhardt and Jacob Vanoskey in seventh and eight respectively. Billy Braun finished ninth and Tyler Hromadka was tenth.
Tyler Hromadka won the first Pro Late Model heat race and Brad Hetzel won the second heat race. Tom Berens was the fastest qualifier after posting a qualifying lap in 12.198 seconds.
The 602 Outlaw Late Model Touring Series was on hand and Slinger veteran Dennis Prunty took the victory in the 35-lap feature over Rob Braun and Steven Schulz who also were no strangers to the Slinger Speedway. Travis Dassow made a rare appearance behind the wheel of Chris Ratajczyk's car and drove it to a fourth-place finish ahead of Alex Hartwig in fifth. Bryce Miller finished sixth and Bill Prietzel was seventh while eight place went to Tom Carlson. Greg Bowers and Ethan Rose were ninth and tenth respectively. Brian Johnson Jr. won the 602 Outlaw heat race and Travis Dassow took the checkered flag in the dash. Rob Braun set fast time for the 602 Outlaw division with a qualifying lap of 12.168 seconds.
Mike Sandholm won the 35-lap Modified feature over Justin Okruhlica and Brett Wachowiacz in second and third. Steven Schulz finished fourth and Bill Prietzel was fifth. Modified heat races were won by Tyler Schley and Steven Scholz while Justin Okruhlica set fast time in qualifying with a lap time of 12.215 seconds.
Brandon Mennicke edged Tom Elsinger Jr. and Mitchell Strobel to win the 25-lap Slinger Bees feature as those three along with Al Strobel raced side by side the entire event. On the final lap Al Strobel's car experienced mechanical issues as Mennicke bested Elsinger and Mitchell Strobel for the win. Dylan Lemberger finished fourth and Ricky Gebhard was fifth. Slinger Bee heat races were won by Al Strobel and Misty Benn while fast qualifier honors went to Dylan Lemberger with a lap of 15.269 seconds.
Rick Buss won the 15-lap Slinger Sixer feature as he turned back the challenges from Steven Mueller and Joshua Zacharias to score the victory. Mark Fogel Jr. and Brandon Gumm completed the top five finishers. Joshua Zacharias won the Slinger Sixer heat race and was also the fastest qualifier with a lap time of 15.777 seconds.
Scott Goetzke won the Figure 8 race over Rick Bruskiewicz and Eli Gorecki to close out the evening.
Subscribe to Slinger Super Speedway Race Fan news email notifications at http://eepurl.com/gtxCUz
---
Article Credit: Dan Margetta
Article Media
Back to News