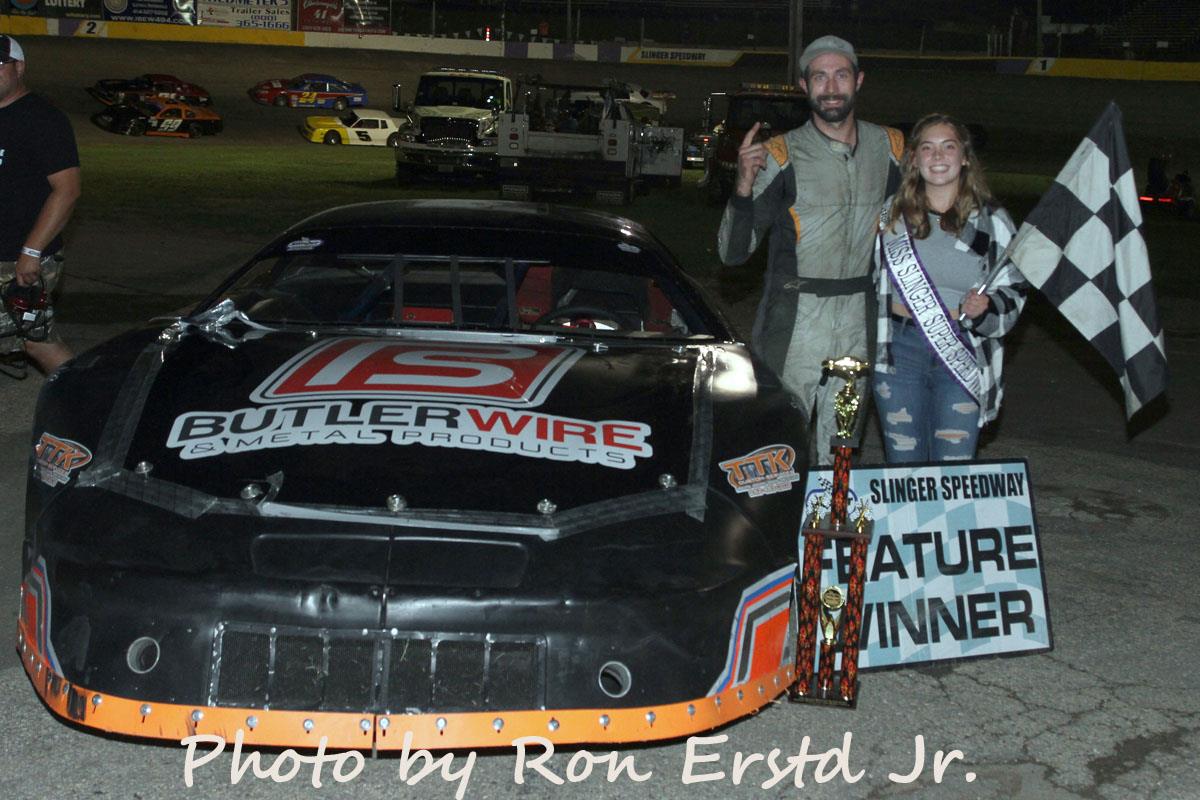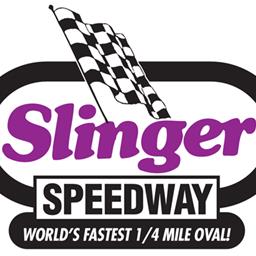 8/14/2022
Slinger Super Speedway
---
Tyler Schley Scores Pro Late Model Victory at Slinger
Slinger, Wis., Aug 14—Tyler Schley survived a rough 50-lap Uptown Motor Cars Pro Late Model feature Sunday night at the Slinger Speedway to capture his first Pro Late Model main event victory of the season. Schley, who started seventh and worked his way to the lead by lap 20, maintained the top spot through two red flag periods and numerous cautions before turning back challenges from Ryan Gutknecht and Ryan Craine to secure the win. Craine finished a close second while Gutknecht retired from the event late in the going with mechanical issues while battling for the lead. Zach Prunty finished third while Jeff Holtz and Zach Braun completed the top five finishers.
"It's been successful the times we've been to the track this year," Schley stated from victory lane, "We got stuck kind of in traffic two weeks ago and it's nice to be able to get through and have a good end result."
"We had a pretty good car but it got a little tight towards the end," Craine stated after leading several laps early before finishing second, "I just couldn't get Tyler (Schley) on those restarts but I was really trying though."
"At the start of the race I thought we were really good and we were going to the front right away," Prunty explained after finishing third, "And then those cautions just started coming out and I think that's the longest time I've ever been in a race car."
Jerry Eckhardt paced the opening laps and finished the evening with a sixth place result while Jacob Vanoskey was seventh, just ahead of Willie Nelson in eighth. Del Schuler finished ninth and Jeremy Bentz was tenth.
Pro Late Model heat races were won by Tyler Hromadka and Ryan Craine while Zach Prunty set fast time with a qualifying lap time of 12.169 seconds.
Jake Schraufnagel won an exciting 35-lap Sportsman feature over a hard charging Alex Lopacinski and Brian Holtz. Andrew Meyerhofer took the checkered flag in fourth place while Dale Lecus Jr. finished fifth. Simon Seyfert challenged for the lead in the early stages before finishing sixth followed by Bobby Giers and Brett Butler in seventh and eighth respectively. Dave Teske and Brady Held rounded out the top ten finishers. Brandon Tackes won the first Sportsman heat race and Alex Lopacinski won the second heat while Paul Wagner was the fastest qualifier for the Sportsman division after completing a qualifying lap in 12.680 seconds.
Bill Prietzel and Steven Schulz staged a spirited battle for the win in the 35-lap Modified feature before Prietzel was able to edge ahead at the finish to capture the victory. Schulz had to settle for second while Justin Okruhlica made a late charge to grab third at the checkered flag. Mike Sandholm finished fourth and Brett Wachowiacz was fifth. Steven Schulz won the Modified heat race and Tim Bell took top honors in qualifying after turning in a time of 12.111 seconds.
Dylan Lemberger scored his first feature win of the season in the 25-lap Slinger Bees main event as he held off Tom Elsinger Jr. and Brian Stanczyk for the victory. Brian Hillringhouse and Brandon Mennicke finished fourth and fifth respectively. Slinger Bees heat races were won by Scott Emrich and Brandon Mennicke while Tracy Neu was the fastest qualifier after circling the speedway in 15.239 seconds.
Scott Goetzke won the Figure 8 race over Bill Shavlik and Rick Bruskiewicz to close out the evening.
---
Article Credit: Dan Margetta
Article Media
Back to News