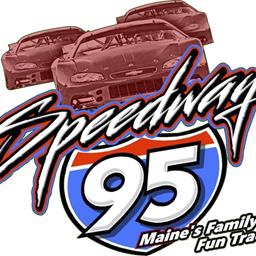 Speedway 95
Hermon, ME
Track Information
Speedway 95 2020 Racing Season Info
Speedway 95 is a 1/3 mile semi-banked paved oval located in Hermon Me.
2023 Ticket information:
Saturday Pit Admission ~ $20.00
Saturday Grandstand Admission ~ $10.00
Wednesday Pit Admission ~ $10.00
Wednesday Grandstand Admission ~ $5.00
Saturday Series Racing Info:
Saturday Series events feature the top local racing divisions at Speedway 95. Saturday Series events run from Spring to Fall and most events run for about 3 hours a night.
The Dysarts Late Models are the biggest and fastest weekly division we have at Speedway 95. Purpose built cars with high performance V8 engines and parts make for side by side high speed racing.
The Casella Recycling Street Stocks are the second tier division at the track but don't let labels fool you, these drivers put on racing that will keep you on the edge of your seats the entire time they are on the track. Former street legal V8 vehicles that have been heavily modified but still resemble street legal counterparts.
The Casella Waste Systems Sport 4's are the fastest 4 cylinder cars that you will see at Speedway 95. These former street legal cars can be front or rear wheel drive. You will see anything from an Accura Integra to a Ford Pinto and everything in between.
The Coca Cola Cage Runners is the beginner class of Saturday Series racing. These cars have little to no modifications. Remove all the glass except the windsheild, install a rollcage and go racing! There is no better way to get started on a Saturday Night!
Wacky Wednesday Racing info:
Wacky Wednesday is the perfect midweek event to keep the whole family entertained! Wacky Wednesday Events start at 7pm and run 2 hours.
The Stars of Tomorrow is exactly what you would think it would be. Kids ages 10-15 call this division home racing on the same track as everyone else! Stars of Tomorrow cars mimic the cars used in the Modified Enduros
The Caps Tavern Modified Enduros are the stepping stone for Wacky Wednesday drivers to prepare to move to Saturday Series Racing. Modified Enduros are exactly what it sounds like. Cars are off the street with mods made for racing. These cars are not as modded up as the Sport 4's but are the perfect stepping stone to that division.
The Road Runners are the bone stock enduro division of Speedway 95. Smash out the glass install a few safety items and go racing!
The Truck division was brought back during the 2022 racing season, as a full size pickup truck racing division.
Fan Info
Tents and campers (no hookups)
Small coolers only (no glass)
No ATM on site
All major credit cards accepted
Partially paved parking
Grandstand seating
Free Wi-Fi in pits and grandstands
Family Info
No family seating section
No play area
No family restrooms
Pit Info
Fans allowed in pits
Pit concessions available
No electricity in the pits
Fuel available at the track
MRP Card accepted at the backgate
Pits located outside the track
Partially paved pit surface
Tires available at the track