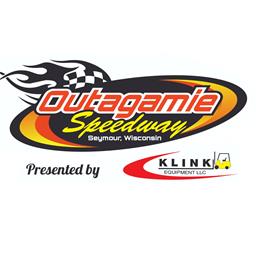 Outagamie Speedway
Seymour, WI
Track Information
Track Information
Outagamie Speedway presented by Klink Equipment is a wide and fast 1/3 mile semi-banked clay oval located at 637 N. Main St, Seymour, WI, 54165. Eastern Wisconsin Stock Car Inc is the promoting club in its 4th year at the facility, and its 60th consecutive season promoting racing in Northeast Wisconsin.
GENERAL & RACEDAY INFORMATION
To obtain general or raceday information, please call the track phone 920-860-7745. If weather conditions are questionable, changes or cancellations will be immediately recorded on voicemail, as well as being posted on our website, Facebook & Twitter pages.
Outagamie Speedway is a family-oriented facility. There is NO SMOKING anywhere in the main grandstand, and designated smoking areas behind it. We do our best to make it an outstanding place to bring your family with our General Admission at $12 for 16 and older, $9 for students 12-15 and seniors 60 & over, and children 11 and under are FREE. We also have a Jr Fan Club for the children 11 and under. They can sign up and receive a t-shirt, ride the bus through the pits and on the track during the National Anthem, and 5 of them will win the right to sit on the infield during the features and hand out trophies to the winners. Pit Passes are $25 per person, and minors are allowed in the pits at the regular pit pass price, with signed minor releases. Please see the event schedule for special event pricing.
GENERAL SEATING & HANDICAP ACCESS
There is a full covered grandstand located on the frontstretch, and another grandstand in the pits on the backstretch. There are split steps in parts of the grandstand to decrease step height, as well as railings. There is Handicapped Parking spots in the front row of the parking area directly in front of the ticket booth, as well as an area for handicapped seating in the grandstand. Stadium seats and seat cushions are allowed, however lawn chairs are not.
TICKET SALES & RACE TIMES
All tickets are sold as a wristband, and go on sale at the time the gates open. Pit gates open at 4pm, grandstand gates open at 5pm. Driver Registration closes at 6:20pm and the National Anthem will start at 6:55pm with the first race at 7pm. Times & prices may change for special events, and will be posted on our website, Facebook & Twitter, as well as the Track Phone. The Main Ticket booth is behind the main Grandstand, while pit passes are purchased at the Driver Sign In building outside the pit gate.
COOLERS & FOOD
THERE ARE ABSOLUTELY NO CARRY-INS ALLOWED IN GRANDSTAND AREA. If you have special dietary needs that cannot be met by our concessions, you will be allowed to exit the facility to obtain & consume needed items at your vehicle before returning to the facility.
RAIN OUT POLICY
If the halfway point in the program (all heat races and B Mains) has been completed, rain checks will NOT be issued, and competitors will receive equal points/equal pay for any features not completed, If the halfway point has not been completed, your wristband will be honored at another designated event. Cash refunds are not given at any point in the event, nor at a rainout.
CAMPING
During race events, camping is permitted in the designated camping areas, the Northeast wooded camping area with electrical and water hookups, or the Southwest camping area outside the pit chute area also with water & electrical. A donation would be appreciated by the Fair Association if using water & electrical hookups. Please keep campground clean during your stay and clean up your area before you leave. Do not leave trash behind. Be respectful to camping neighbors. No fireworks. Campfires must elevated, fully enclosed fire pit, you are responsible for fire safety. No 4-wheelers or other motorized sports vehicles are allowed in campground or parking lot. They are only allowed inside pit/racetrack area during designated race times. Golf carts are allowed in campground.
If rules are broken, camping privileges can be revoked.
NO ENTRANCE UNTIL FACILITY IS OPEN FOR BUSINESS
In preparation for an event, our gates may be open for employees to enter and exit while working to get the facility ready for the event. We ask that patrons do not enter the facility for any reason until we are officially open for business at the time advertised.
SAFETY
For the safety of our guests, before, during and after all events, there are both uniformed and non uniformed police officers on duty. When entering the facility, always be aware of events on the track in case of any flying dirt or debris to avoid injury. By entering the facility, you assume that risk.
Fan Info
Tents and campers (with hookups)
No coolers allowed
ATM on site
No credit card accepted
Paved parking
Front & back stretch grandstands
No Wi-Fi available
Family Info
No family seating section
No play area
Family restrooms available
Pit Info
Fans allowed in pits
Pit concessions available
No electricity in the pits
Fuel available at the track
Check-in information unavailable
Pits located outside the track
Dirt pit surface
Tires available at the track