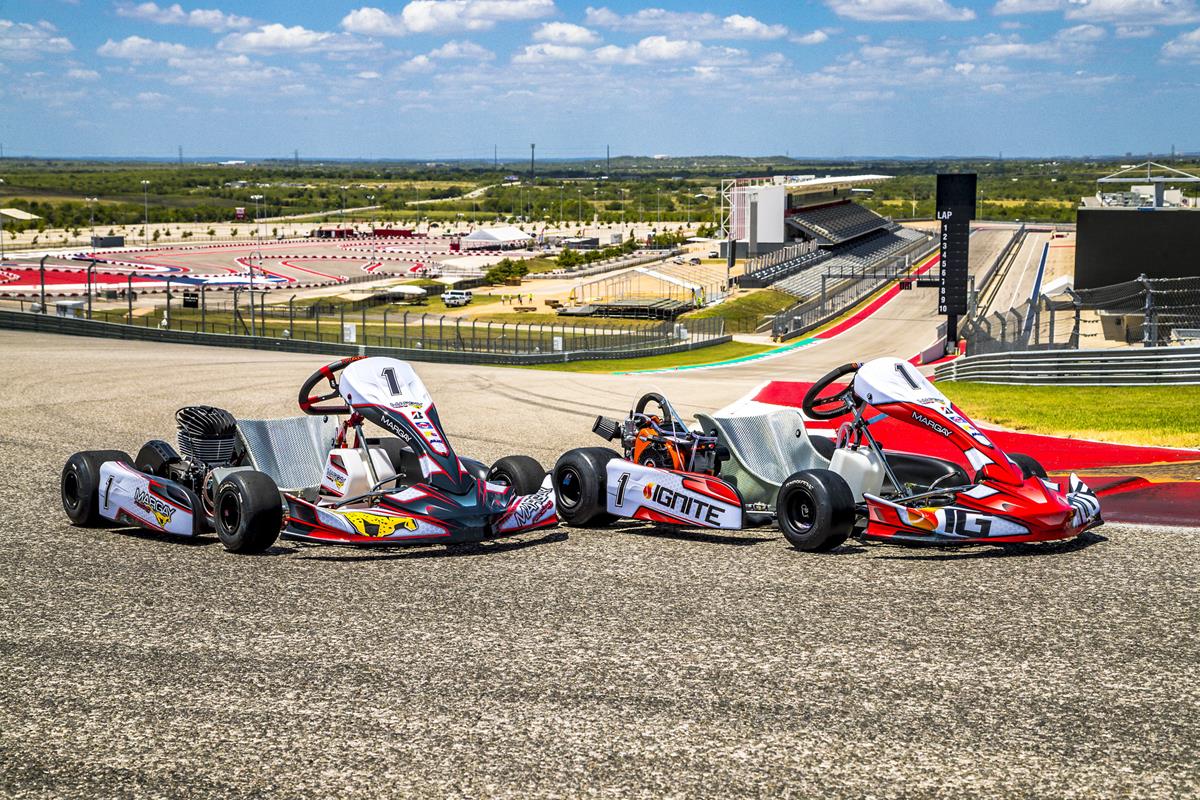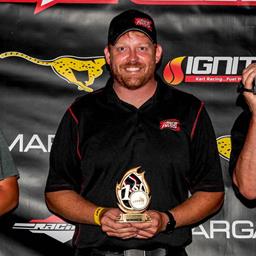 ---
Margay Racing Partners with the Circuit of the Americas Karting
Margay Racing is proud to announce that Circuit of the Americas has become its newest authorized Margay dealer and Ignite race series host. The new partnership between longtime kart industry leader Margay Racing and North Americas newest premier racing facility, Circuit of the Americas, is focused on bringing new racers to the sport of karting. Already successful in the Midwest, the Ignite race series at COTA Karting will minimize entry barriers for enthusiasts and turn race fans into racers. The spec nature of the program lessens costs while maximizing driver development. Equally prepared Margay Ignite karts featuring factory-sealed Briggs 206 engines place the emphasis squarely on the driver rather than the driver's wallet.
"Like everything in Texas, this is big," said Margay owner Keith Freber. "Our partnership with COTA Karting marks another milestone in the continuing growth of our Ignite Karting classes and we are very excited at the prospect of bringing new participants to the sport at such an outstanding karting facility. The team at COTA Karting is enthusiastic, knowledgeable, professional and simply does everything in a first class manner, we are thrilled to be working with them," added Freber. "The full Ignite season at COTA Karting is going to be a great way to get involved in karting and hone your skills before joining us at the Ignite Majors. We are really thrilled with the opportunity to grow the karting family with our partners at COTA Karting," concluded Freber.
The inaugural COTA Karting race schedule for 2019 will feature 10 races, starting with a double-header on February 23-24. Joining the Ignite program will be the IAME KA100 Junior and Senior classes. Like the Briggs 206, the IAME KA100 engine has received high praise throughout the industry for its out of the box performance, parity and reliability. The simplified class structure will ensure racers get more time on track and less time in the pits, while not requiring racers to spend the entire day at the track.
COTA Karting's Director Khai Nguyen stated, "COTA Karting is excited to partner with Margay Racing to bring the world-class Ignite Series to Austin. The Circuit of the Americas appreciates the incredible reception the community has given our new karting facility and looks forward to inspiring more people to join the sport. Whether it's for recreation of competition, COTA Karting is fun for everyone."
2019 COTA Karting Class Structure
• Kid Kart Honda (Ages 5-8, Honda GXH50 Motor, Open Chassis)
• Ignite Rookie (Ages 8-12, Briggs 206 Motor, Ignite K2 Chassis)
• Ignite Junior (Ages 12-15, Briggs 206 Motor, Ignite K3 Chassis)
• Ignite Senior (Ages 15+, Briggs 206 Motor, Ignite K3 Chassis)
• Ignite Masters (Ages 35+, Briggs 206 Motor, Ignite K3 Chassis)
• Ignite Heavy (Ages 15+, 200lbs+, Briggs 206 Motor, Ignite K3 Chassis)
• KA100 Junior (Ages 12-15, IAME KA100 Motor, Open Chassis)
• KA100 Senior (Ages 15+, IAME KA100 Motor, Open Chassis)
Purchase your Margay kart this winter to gear up for the 2019 race season. To purchase, either visit the COTA Karting facility, email info@cotakarting.com or call 512-655-6301.
---
Article Credit: Margay Racing
Back to News