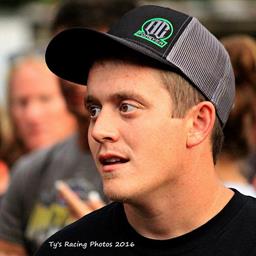 Brady Bacon
Broken Arrow, OK
Driver Information
Brady Bacon is a third generation driver. He started racing when he was five years old driving quarter midgets. He then started racing micro midgets when he was 10 years old. He continued running the cars with much success until he was 15 when he started racing sprint cars and midgets as well. Towards the end of the 2006 season after much success in the USAC National Midget Series Brady signed onto the Driver Development Program with Chip Ganassi Racing. He began racing for Kasey Kahne's USAC team in 2007 and raced with them through the end of 2008 in the full USAC National Midget and Sprint Car Series on both pavement and dirt. Brady graduated from a private Christian school one year early, bypassing his sophomore year with extra classes, so he could pursue his racing career. He not only excelled in racing but also academically; he was a National Merit Scholar as well as Valedictorian of his class.
He got back together with former car owners Mike and Megan Eubanks in 2009 to pursue his winged sprint car career. Brady had a great 2010 and 2011 season finishing the ASCS tour 2nd and 3rd in points respectively. These two years brought a total of 5 ASCS National victories as well as the prestigious Rookie of Knoxville 410 Nationals award in the wing ranks. He also scored his 1st USAC National sprintcar win.
In 2011 Brady took over full ownership of the 99 program and now operates Brady Bacon Racing. Brady enjoys being as versatile as possible with his racing. Brady not only drives but he is also responsible for all setup and mechanical decisions on his own cars while trying to gain every advantage that he can. 2012 proved to be a breakout year for Brady. He amassed a total of 12 victories in a variety of different venues. Concentrating on the ASCS tour he won 7 races and finished 3rd in the final points standings.
Wanting to make a change in order to do more wing 410 racing, Brady decided to make a few big changes in 2013. After marrying long time girlfriend Xia Xianna Baker, Brady moved to Indiana and also took over the driving duties for the famed Hoffman Auto Racing 69.
Brady had an extremely successful tenure with Hoffman Auto Racing from 2013 to 2016 resulting in 2 National USAC Championships and 14 USAC feature wins. The combo also won the 2014 Eastern Storm and 2016 Indiana Sprint week titles. Brady sits atop the all time win list for the famed race team.
Brady and Xia Xianna also continue to field their own 410 sprint car in select events throughout the country with much success. Brady has earned a total of 6 410 sprint car victories including a Pennsylvania Speedweek victory at Path Valley Spedway and an Eldora 4 Crown title with the Allstars Circuit of Champions.
Brady juggles the busiest open wheel dirt schedule in the country piloting cars all across the country. Bacon has amassed more than 80 sprint car and midget victories in his career and plans on adding many more.
2018 will see Brady run in excess of 100 races while pursuing the USAC Sprint championship in his own 99 car, the USAC midget championship in Frank Manafort's 76M. He will also run all of the dirt Silver Crown races for Bob East and Terry Klatt while fitting in select 410 wing sprint car races in the Bacon Marshall Motorsports entry.
2017
• Allstar Sprints Eldora 4 Crown Winner
• 3 USAC National Midget wins
• 2 USAC National Sprint Car wins
• 2 USAC 360 wins
• Williams Grove ARDC winner
• 1 Local 410 Sprint win
• 3rd in USAC National Midget points
• 10 total wins
2016
• USAC National Champion
• Indiana Sprint Week Champion
• USAC Curb Super License Champion
• 3rd in USAC Midget points
• 2 USAC National Sprint Wins (Montpelier, Jackson)
• Jason Leffler Memorial 20K Winner
• 1 410 Wing Sprint Car Win
• 1 CRA Sprint Win
• 1 Australian Midget win
• 1 USAC 360 Win
• 7 total wins
2015
o 7 USAC National Sprint Car Wins
o 1 CRA Sprint Car Win
o 1 Local 410 Sprint Car Win
o 1 MOWA Sprint Car Win
o Western World Midget Win
o 1 360 Sprint Car Win
o 12 Season Wins
2014
o USAC National Sprint Car Champion
o 4 USAC 410 Wins
o 4 Crown Nationals Winner
o Eastern Storm Champion
o 410 MOWA Granite City Winner
o 410 Triple X 40 PA Speedweek Winner
o 2 USAC 360 Wins
o 1 305 Sprint Car Win
Recommendations
No recommendation information