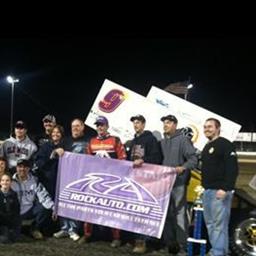 Derek Hagar
Marion, AR
Driver Information
Derek's father, Scott Hagar, bought him a go-cart when he was 10-years-old. Derek raced go-carts for 4 years and he won a number of features. Halfway through his 4th season (while leading in points), Derek left the go-cart track after being given the opportunity to drive a 250 mini-sprint. He won 4 features in half a season in his mini-sprint. Derek took a year off in 2005 to travel with Marshall Skinner -- a 360 Sprint car driver.
Derek spent that year learning everything he could about a sprint car. With the help of Marshall and Kenny Conrad, Derek's stepfather, Derek was able to learn a lot about the car: how to build it, how to drive it and how to fix it. Kenny knew Derek was ready to get behind the wheel of a sprint car after being on the road for a year. Kenny, a former sprint car driver, put Derek in a sprint car and has helped him ever since.
Derek began his first year of racing 360 sprints in 2006, which turned out to be a great year for Derek as he earned the title of "Rookie of the Year" his first season.
In 2008, Derek was able to get seat time in a silver crown car and also a midget. However, he has made a name for himself in the sprint car ranks the past couple of years.
Derek scored his first career USCS national championship and a career-best 10 feature wins in 2013 before he topped that in 2014, when he scored 16 feature victories. Among those were his first two Lucas Oil ASCS National Tour triumphs -- the Rock 'N Roll 50 and the Jesse Hockett/Daniel McMillin Memorial -- and his first-ever 410 win.
Recommendations
No recommendation information