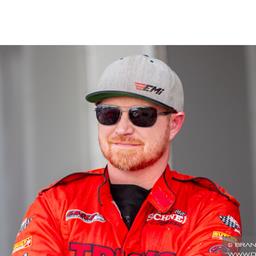 Jason Martin
Lincoln, NE
Driver Information
Jason Martin and his wife, Amber, have two sons, Chase and Reece. Jason's interest in dirt track racing started at a young age when his father would sneak him into the pit area of local racetracks where he would ride along in the push vehicles! Since his entrance to the sport in 1995, Jason concentrated on winning championships! He was the winner of three track championships, as well as three runner-up track championships, in the first 4 years of competition in multiple classes.
Jason has proven to be a winning racer with the will to learn and the desire to thrive! His ability to understand set-ups, maintain his own equipment, to design and fabricate any product necessary has led to many accomplishments. He has accumulated over 100 feature wins in 34 different states, and Canada.
Jason is very proud to have won The Steve King Memorial race at Dodge City Raceway Park in 2009, as well as in 2011 at The Jetmore Motorplex. Jason is one of a few racers who can say they have made the A-Mains at both the Chili Bowl Midget Nationals in Tulsa, OK, and the Knoxville Nationals in Knoxville, IA, in the same year as a rookie in these events.
In the beginning, Jason dreamed of one day owning and operating his own professional sprint car team. In 2006, his dream came true! Jason and the Martin Motorsports team competed at the highest level of sprint car racing in the World of Outlaws. In the spring of 2012, an opportunity of a lifetime presented Jason with a management position in the industry that he loves. Eagle Motorsports, a sprint car chassis manufacturer in Lincoln, Nebraska, was interested in Jason's talents and valuable assets. That August, Jason and Amber moved their two sons to their new home in Nebraska. While working at Eagle Motorsports in the fall of 2013, another major opportunity materialized in the form of creating a fresh race team with local businessman and avid race fan Brad Ball. Jason and Brad quickly formed a great relationship, as well as a winning race team, finding a victory their third time out. Victory lane was no strange place for Jason and his beautiful race car in 2014, claiming 11 wins throughout the season. Along with winning races, the primary objective of Martin Motorsports is to enjoy racing while working together as a team to be the very best there is in all aspects. Racing is all that they have known for almost 20 years, and they continue to do it for the sake of fun, family, and tradition.
Raced in 34 different states in the US plus Canada. Won races at 20 different tracks in 8 different states - Assembled over 80 complete race cars in career - Made the A-Main at the Chili Bowl and Knoxville 410 Nationals all in the same year as a Rookie in both events - Raced 11 different types of open wheel race cars - 305 Winged and Non-Winged Sprint Cars, 360 Winged and Non-Winged Sprint Cars, 410 Winged and Non-Winged Sprint Cars, Midgets, and 3 types of Micro Sprints.
Recommendations
No recommendation information