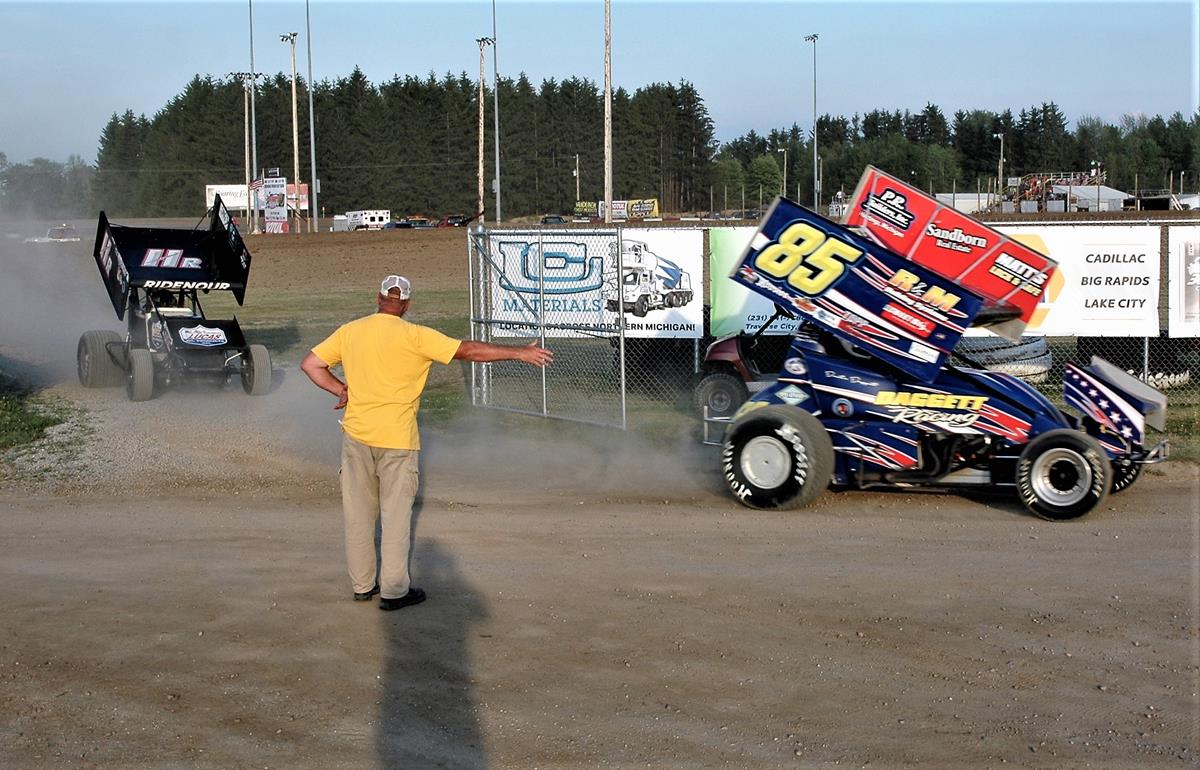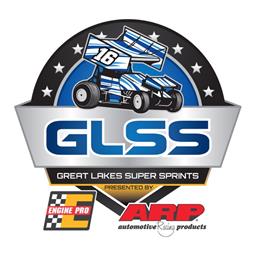 6/30/2018
Great Lakes Super Sprints
---
LIGHTS OUT IN MERRITT
Crystal Lake, MI – On May 26th there was a 15% chance of rain and it rained. Saturday there was a 0% chance of rain and they were right, no rain. However we couldn't have foreseen the chance of a power outage, shutting down the lights around Merritt Speedway Saturday night!
We rolled into Merritt Speedway for a make up race from May 26th. It was hot, but not unbearable and we had 21 cars present at our drivers meeting. We went over the normal things and asked the drivers to get heat in their motors and then relax, drink plenty of water and we would give them a 10 minute notice for qualifying.
The horn sounded and our drivers were in their cars and lined up for their first trips around the track. When the last cars pulled off the track, Dustin Daggett (Portland, MI) was our fast qualifier with an average lap time of 13.853 seconds. Our 2nd place finisher was Phil Gressman (Helena, OH) with a time of 14.064 and following him was Gregg Dalman (Bellevue, MI), Joe Geibe (Sturgis, MI) and Linden Jones (Edwardsburg, MI) rounding out the top 5.
In the Kistler Engine Heat Race 1, Chase Ridenour (Perry, MI) starting on the pole, jumped out to the early lead. Daggett, starting 4th quickly gets around Geibe and Connor Morrell (Bradenton, FL) for 2nd. Ridenour leads into the 3rd lap when he gets up high in turn 3 and slips over the cushion in turn 4, allowing Daggett to power past for first. Ridenour holds onto 2nd with Morrell, Danny Sams III (Northport, FL) and Geibe rounding out the top 5.
Brad Lamberson (Parma, MI) leads out the Campbell Performance Heat 2 and quickly pulls out of reach from the field. The battle was for the 2nd transfer spot between Gressman and Andrew Scheid (Sparta, MI). While Gressman was trying to find a way to reel in Lamberson, Scheid was trying to reel in Gressman. Scheid got his chance as Gressman's time fell off a little in laps 4 & 5.
Scheid was able to get up next to Gressman in lap six, turning a faster lap. Scheid and Gressman ran side by side in lap 6 and 7 with only a 9 thousands of a second difference in lap times. Gressman holds Scheid off as he pulls away to secure the last transfer spot, with Mike Astrauskas (Pierson, MI) and Jones rounded out the top 5.
In the Kistler Racing Products Heat 3, Brett Mann (Goshen, IN) got out to a fast lead with Jared Lamberson (Parma, MI) following. Lamberson holds on to 2nd into the fifth lap when Dalman gets around him. Staying with Dalman, Lamberson gets back around Dalman, turning has fastest lap of the race. With Mann taking the win, Lamberson, Dalman, Matt Foos (Fremont, OH) and Cody Howard (Millington, MI) rounding out the top five.
Taking the top 2 finishers from the heat races, we did a redraw for the starting line up at the GLSS Hauler. The drawing order is determined by qualifying times. With the redraw done, the feature was set with Brad Lamberson and Phil Gressman sitting on the front row, with Mann and Daggett in the second row and Jared Lamberson and Ridenour filling out the third row. Then the lights went out!
According to local sources there was an area wide power outage with no estimation of a time for it to be restored. There was a brief discussion of trying to get the feature in before we lost all natural light, but it was 9:35 and our drivers and crews weren't ready to roll out, plus the biggest issue of putting 21 cars on the track with waning light was a safety concern.
Merritt Speedway and Great Lakes Super Sprints officials went through their schedules to try and put together another date, but an acceptable date could not be arranged. With regrets and disappointment of not getting to run the feature we cancelled the feature and called the race complete. We will be awarding qualifying and heat race points to all drivers. Thank you to Merritt Speedway for working with GLSS and giving us this rain-date from Memorial Weekend. It's always a pleasure to work with the Merritt staff when we come to town.
With the Beckley Motorsports Park race in Beckley, WV cancelled for July 7th, our next race will be the start of our Triple Header Weekend at Tri-City Motor Speedway in Auburn, MI.
For a complete listing of results and points, visit our website at www.greatlakessupersprints.com and be sure to like us on Facebook and Twitter.
---
Article Credit: Barry M. Marlow
Submitted By: Barry Marlow
Article Media
Back to News