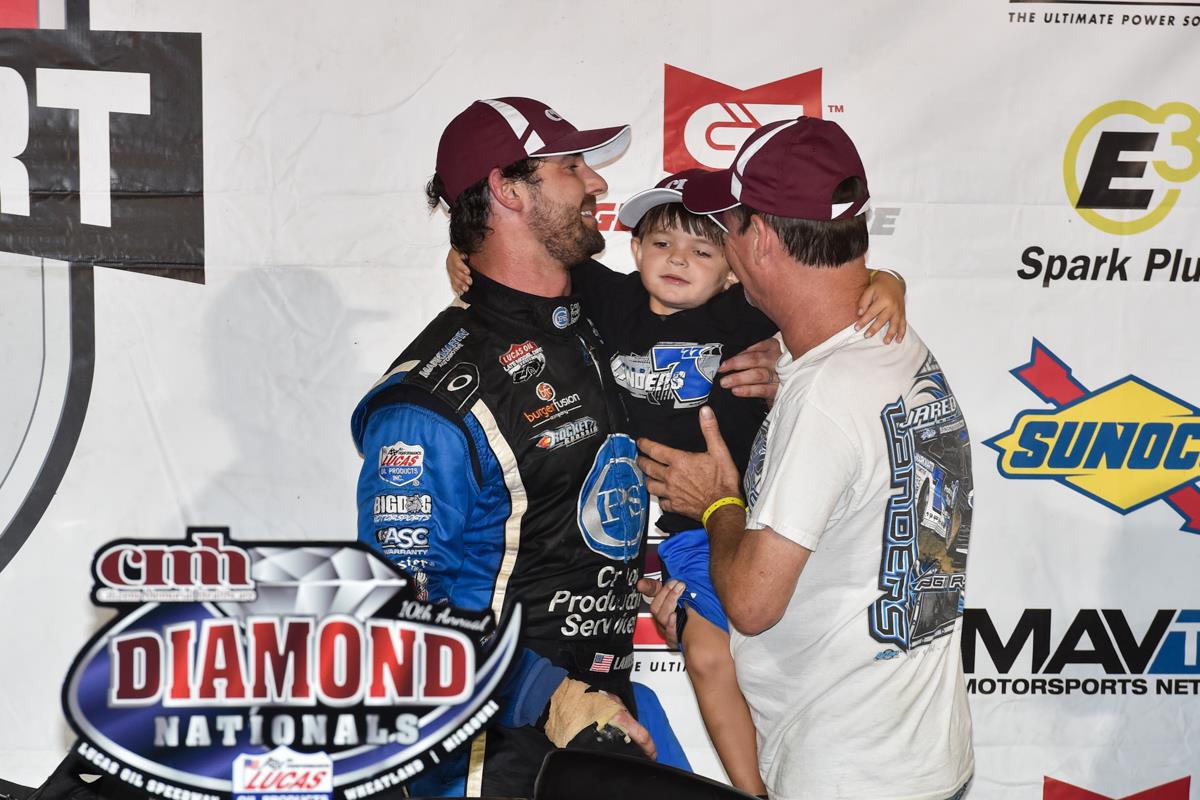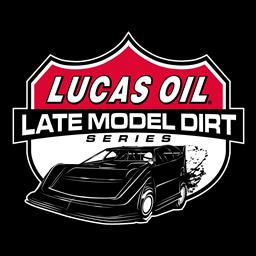 7/16/2016
Lucas Oil Late Model Dirt Series
---
Landers Takes CMH Diamond Nationals at Lucas Oil Speedway
WHEATLAND, MO (July 16, 2016) Jared Landers won his second Lucas Oil Late Model Dirt Series event of the season on Saturday Night at Lucas Oil Speedway, the site of his first win back in May. Landers was the third different leader of the race. He took the lead on lap 13 and then held off a furious three-lap challenge from several drivers at the end of the race to take the win in the CMH Diamond Nationals. The event was co-sanctioned by the Lucas Oil Midwest Latemodel Racing Association.
After winning the Show-Me 100 at Lucas Oil Speedway back on Memorial Day Weekend, Jimmy Owens captured another podium finish, ending as the night's runner-up. Jonathan Davenport came from seventh to finish third. Tim McCreadie was fourth, and Scott Bloomquist came home in fifth.
Just over 24 hours earlier, Jared Landers had gone end over end in a series of flips at Tri-City Speedway during Time Trials. "Scott [Bloomquist] builds an awesome race car, after what happened last night when I flipped, our team brought out the back-up car and had a Top-Ten finish last night. Our team is extremely thankful to back that up here tonight and with this win."
"I thought to myself, just be patient. Stick to the line, and don't try too hard. I stuck the right rear in one of those holes, and I figured if I needed to just slow down and set a good pace. I am usually the guy trying to blast to the lead. We have had some good runs and had a good chance to win the Show-Me back in May. My crew, Jason, and Jake have put together a great car that can run in the rough."
Landers' Sweet-Bloomquist, Andy Durham Racing Engines-powered entry is sponsored by Crop Production Services, Mark Martin Automotive, ASC Warranty, Bad Boy Mowers, and Penske Shocks."
Owens owns several wins at LOS and was happy with his second place finish. "We had a really good hot rod tonight. Our hats are off to Jared [Landers] and his crew, they did a great job tonight. Coming back to win tonight after what happened to him last night says a lot about them [the Landers Team]. Keeping this E3 Spark Plugs, Cheap Cars, Barry Wright Race Car up front is thanks to my crew. We had a great car tonight, but we came up just a little bit short."
Davenport earned his first podium finish since May by claiming the third spot. "There was probably a little bit of attrition that helped us out tonight. We never gave up; we are still quite a bit off on the car. We are missing something somewhere. It's been a while since we've had a top three finish. Everybody goes through a slump. Kevin [Rumley] and I will put our heads together. We are getting a little better. We have got to build back up. We are now looking forward to I-80 next weekend."
Completing the top ten were Brandon Sheppard, Tyler Erb, Earl Pearson Jr., Jake O'Neil, and Jesse Stovall.
In preliminary action, Robert Baker set the overall Miller Welders Fast Time (Group A) amongst the 41 entrants, with a lap of 15.300 seconds. Clay Daly set the fastest time in Group B with a time of 15.514 seconds. Brandon Sheppard, Tim McCreadie, Jared Landers and Jimmy Owens won their respective heat races. Dave Eckrich and Brandon Overton won their respective B-Mains.
Lucas Oil Late Model Dirt Series
Race Summary
Saturday, July 16th, 2016
CMH Diamond Nationals
Lucas Oil Speedway – Wheatland, MO
Miller Welders Fast Time Group A: Robert Baker / 15.300 seconds
Miller Welders Fast Time Group B: Clay Daly / 15.514 seconds
Eibach Springs Heat Race #1 Finish (10 Laps, Top 4 Transfer): Brandon Sheppard, Scott Bloomquist, Jake O'Neil, Robert Baker, Randy Timms, Jason Papich, Don O'Neal, Bryon Allison, Rob Hail, Jon Binning, JC Wyman
FK Rod Ends Heat Race #2 Finish (10 Laps, Top 4 Transfer): Tim McCreadie, Jonathan Davenport, Tad Pospisil, Earl Pearson, Jr., Dave Eckrich, Terry Phillips, Brad Looney, Dennis Erb, Jr., Tommy Weder, Josh Poe
Simpson Performance Products Heat Race #3 Finish (10 Laps, Top 4 Transfer): Jared Landers, Clay Daly, Tony Jackson, Jr., Tyler Erb, Payton Looney, Austin Siebert, Scott Crigler, RC Whitwell, Billy Moyer, Jr., Colton Flinner
QA1 Heat Race #4 Finish (10 Laps, Top 4 Transfer): Jimmy Owens, Billy Moyer, Brantlee Gotschall, Jim Shereck, Brandon Overton, Jesse Stovall, Darrell Lanigan, Mark Dotson, Reid Millard, Jacob Magee
Fast Shafts B-Main #1 Finish (12 Laps, Top 3 Transfer): Dave Eckrich, Randy Timms, Don O'Neal, Jason Papich, Dennis Erb, Jr., Tommy Weder, Terry Phillips, Brad Looney, Bryon Allison, Rob Hail, JC Wyman, Jon Binning-DNS, Josh Poe-DNS
Keyser MFG B-Main #2 Finish (12 Laps, Top 3 Transfer): Brandon Overton, Jesse Stovall, Darrell Lanigan, Austin Siebert, Payton Looney, RC Whitwell, Mark Dotson, Scott Crigler, Colton Flinner, Jacob Magee, Reid Millard, Billy Moyer, Jr.-DNS
Feature Finish (60 Laps):
FINISH START CAR # DRIVER NAME HOMETOWN EARNINGS
1 2 777 Jared Landers Batesville, AR $12,700
2 4 20 Jimmy Owens Newport, TN $6,300
3 7 6 Jonathan Davenport Mount Airy, NC $4,500
4 3 39 Tim McCreadie Watertown, NY $3,450
5 5 0 Scott Bloomquist Mooresburg, TN $3,150
6 1 B5 Brandon Sheppard New Berlin, IL $2,500
7 14 91 Tyler Erb New Waverly, TX $1,500
8 15 1 Earl Pearson, Jr. Jacksonville, FL $2,100
9 9 J0 Jake O'Neil Tucson, AZ $1,200
10 20 0 Jesse Stovall Billings, MO $1,100
11 8 21 Billy Moyer Batesville, AR $1,075
12 21 5 Don O'Neal Martinsville, IN $1,850
13 23 28E Dennis Erb, Jr. Carpentersville, IL $1,725
14 12 4G Brantlee Gotschall Nevada, MO $1,000
15 17 58E Dave Eckrich Oxford, IA $1,000
16 11 4 Tad Pospisil Norfolk, NE $1,000
17 26 91P Jason Papich Nipomo, CA $1,000
18 22 15L Darrell Lanigan Union, KY $1,700
19 24 75 Colton Flinner Allison Park, PA $1,100
20 19 5T Randy Timms Wheatland, OK $1,000
21 10 56 Tony Jackson, Jr. Lebanon, MO $1,000
22 6 32B Clay Daly Salinas, CA $1,000
23 25 75P Terry Phillips Springfield, MO $1,000
24 13 17m Robert Baker Alexander, AR $1,000
25 18 76 Brandon Overton Evans, GA $1,000
26 16 17s Jim Shereck St. Charles, MO $1,000
Race Statistics
Entrants: 41
Lap Leaders: Brandon Sheppard (Lap 1); Tim McCreadie (Laps 2 – 12); Jared Landers (Laps 13 – 60)
Cautions: Clay Daly (Lap 36); Randy Timms (Lap 42); Jason Papich (Lap 43); Debris (Lap 57)
Lucas Oil Late Model Dirt Series Provisionals: Dennis Erb Jr.; Colton Flinner
Lucas Oil Midwest Latemodel Racing Association Provisionals: Terry Phillips; Jason Papich
Lucas Oil Late Model Dirt Series Emergency Provisionals: n/a
Wrisco Feature Winner: Jared Landers
Optima Batteries Hard Charger of the Race: Jesse Stovall (Started: 20th; Finished: 10th; Advanced 10 Positions)
Midwest Sheet Metal Spoiler Challenge Point Leader: Scott Bloomquist
Allstar Performance Power Move of the Race: Jonathan Davenport
Sunoco Race for Gas Highest Finisher: Jared Landers
Hot Rod Processing Rookie of the Race: Colton Flinner
COMP Cams Engine Builder of the Race: Andy Durham Racing Engines
Ohlins Shocks Chassis Builder of the Race: Sweet-Bloomquist Race Cars
Outerwears Crew Chief of the Race: Jason Durham (Jared Landers)
Fastest Lap of the Race: Jared Landers (Lap #5 – 15.9273 seconds)
Most Laps Led: Jared Landers (48 Laps)
PFC Brakes Tough Break Award: Jim Shereck
Time of Race: 33 minutes 7 seconds
---
Submitted By: Jeremy Shields
Back to News