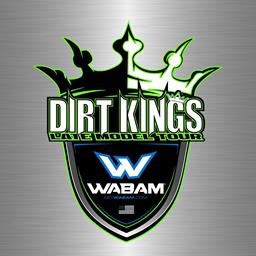 Dirt Kings Late Model Tour
2022 WABAM Dirt Kings Late Model Tour
Save time and register before you get to the track! All drivers must purchase a 2022 WABAM Dirt Kings Late Model Tour license to be eligible for points and contingency awards. Drivers without a license pay a $50 entry fee at each event and are not eligible for any points or contingency awards. Entry Fees can be paid for the 2022 season in advance or at the track for $35.
Entry Fees
Entry Fees can be paid three different ways:
-2022 Season in advance for $25/race, $350 total
-One week prior to race for $30/race
-At the track for $35 for members or $50 for non-members.
Questions?
Please contact Sandy Shultz at (920)450-6024 with any questions about MRP or Registration.
2022 WABAM Dirt Kings Late Model Tour - MRP Registration
REGISTRATION CLOSES: 79d 22h (09/17/2022 12:00 AM)
---
CLASSES: WABAM Dirt Kings Late Model Tour