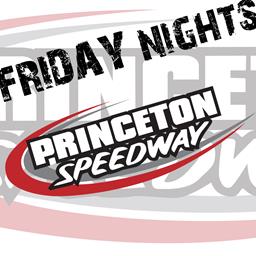 Princeton Speedway
Princeton, MN
Track Information
About Princeton Speedway
We are located on the Mille Lacs County Fair Grounds. Grandstand parking is off of 3rd St N and the Pit entrance is off of 1st St right under the 169 overpass.
Grandstands --opens at 5:00
Racing Starts at 7pm
Adults $12
7-17 $7
6 & Under FREE
Concessions available
Full bar available (no outside food or beverages allowed)
Credit cards are only used at the front tickets
ATM is available ***No checks please
Pits opens at 4
PIT PASS PRICES
All drivers & adults - $30
Juniors 5-17 - $15
DRIVERS we have transponders and raceivers for rent. All classes require both.
Please bring your own earbuds for the raceivers.
Fan Info
Camping information unavailable
Cooler information unavailable
ATM information unavailable
Payment information unavailable
Parking information unavailable
Seating information unavailable
WiFi information unavailable
Family Info
Family seating information unavailable
Playground information unavailable
Restroom information unavailable
Pit Info
Pit access information unavailable
Concession information unavailable
Electrical information unavailable
Fuel information unavailable
Check-in information unavailable
Placement information unavailable
Surface information unavailable
Tire information unavailable