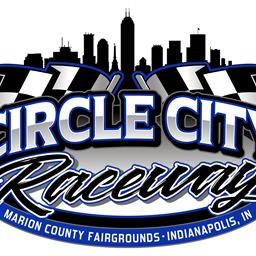 Circle City Raceway
Indianapolis, IN
Track Information
Indy's newest and baddest bullring for Dirt Racing is Circle City Raceway!

We are the only dirt racetrack located within the city limits of Indianapolis, and the first dirt track in almost 25 years. We are an affordable entertainment and racing destination for citizens of the city and the surrounding metropolitan area.

Located just 15 minutes from Downtown Indianapolis at the Marion County Fairgrounds. I-465 is our west border, and I-74 is our north border, and we are located within a 25 minute drive for over 1,000,000 people.

2021 will be Circle City Raceway's inaugural season, as it also the 91st year of the Marion County Fair.

Circle City Raceway has become an epicenter for beautification and renewal, not only for the Fairgrounds, but also for the community in which we live. As an example of our commitment, ownership has invested hundreds of thousands of dollars not only into Circle City Raceway, but also into our sister track, the Indianapolis Speedrome. Having put in new restrooms, stadium seating, fencing, lighting, signage, concessions stands, racing surfaces, pit lane improvements, and so much more, we have brought the Speedrome into the 21st Century! We have 100% committed to doing the same here at Circle City Raceway!
Fan Info
Tents and campers (with hookups)
No coolers allowed
No ATM on site
All major credit cards accepted
Gravel parking
Grandstand seating
No Wi-Fi available
Family Info
Open family seating
No play area
No family restrooms
Pit Info
Fans not allowed in pits
Pit concessions available
No electricity in the pits
Fuel available at the track
Check-in information unavailable
Pits located outside the track
Dirt pit surface
No tires available at the track