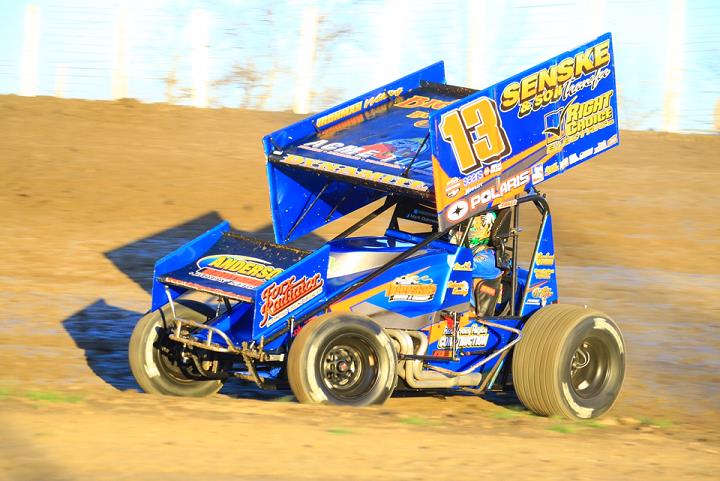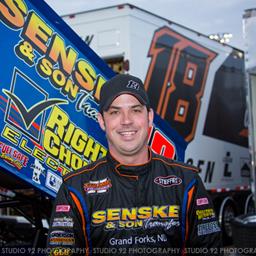 ---
Mark Dobmeier - River Cities Gets It in!
(Bill W) May 2, 2016 – Mark Dobmeier and the Jimco Motorsports/Polaris #13 team got their first podium finish of the season last Friday night at River Cities Speedway in Grand Forks, North Dakota. The event was one of the few not to fall to Mother Nature in the Midwest, though it got a little nippy by the time the checkers flew.
Normally, the weather in northern North Dakota is not conducive to racing in April. "I was impressed that they go the race in," says Mark. "We actually had some decent weather. Normally, they try for April, but things don't get going until well in May. I think it was 60 Friday, but by the end of it, it was a cold one. The people were all bundled up and drinking beer to stay warm."
The famous bullring has undergone some changes recently. "They've done a lot of work on the track," says Mark. "They've reshaped and taken a bit of the banking off of it. It's more of a flat race surface rather than the bowl shape. All in all, they had an excellent racetrack for the first night on it. It was a little rough and spotty here in there, but for the first night, it was good."
Mark would start fifth in his heat and take the win. "There aren't any hot laps," he says. "You run your heat and the feature, and that's it. We worked our way up to the front and won that. Wade Nygaard and Dusty Zomer were both in there with us."
That triumvirate of drivers would be the story in the feature as well. "The track slicked off quite a bit," says Mark. "There was a curb on top, but it was spotty and rough. Pretty much everyone was on top and bouncing through the holes. It ended up being a great race. We had Nygaard, Zomer and me racing for the win. It was anyone's race there."
Mark quickly moved toward the front from his starting spot inside row five. "It was whoever could get through the holes better and get through the lapped cars," he says. "It was tricky, because everyone was in the top lane. It was tough to pass. We were tight. We had made some adjustments after the heat, and we were battling a tight race car on a rough track."
The fans were kept entertained. "We made a good charge out of it though and had a shot at winning," says Mark. "We were second most of the race, and I was dealing with a lapped car. Zomer got a good run around the top in the last corner and he got me at the line."
This weekend will most likely find the team at home in River Cities on Friday and at Knoxville Raceway on Saturday. "Some of the crew has to work Friday, so that will probably keep us closer to home," says Mark.
About Polaris…
Polaris Industries Inc. (NYSE: PII) is a global powersports leader with annual 2015 sales of $4.7 billion. Polaris fuels the passion of riders, workers, and outdoor enthusiasts with our RANGER®, RZR® and POLARIS GENERAL™ side-by-side off-road vehicles; our SPORTSMAN® and POLARIS ACE® all-terrain off-road vehicles; VICTORY® and INDIAN MOTORCYCLE® midsize and heavyweight motorcycles; SLINGSHOT® moto-roadsters; and Polaris RMK®, INDY®, SWITCHBACK®, and RUSH® snowmobiles. Polaris enhances the riding experience with parts, garments, and accessories sold under multiple recognizable brands, and has a growing presence in adjacent markets globally with products including military and commercial off-road vehicles, quadricycles, and electric vehicles. www.polaris.com
Follow Jimco Motorsports and Mark Dobmeier Racing on Facebook...
https://www.facebook.com/Mark-Dobmeier-Racing-329718337235441/?fref=ts
Jimco Motorsports would like to thank Polaris, Senske & Son Transfer, Big Trucks by Jimco, Right Choice Electric, Acme Tools, Interstate Towing & Recovery, Kyllo Trucking, B/L Strong Box, Steffes, Dahlstrom Motors, GLB Transport, Tireboss, Forx Radiator, Anderson Auto Body, Gary Gruhot Farms, Willow Ridge, Rose Creek, Herberg Custom Harvesting, Great Plains Plumbing & Heating, Ironman Welding, DAV, Rendezvous Region Construction, High Mark Snowmobile Rentals, Boss Signs & Graphics and Dobmeier Bonding for all their help!
Photo: Mark won his heat at River Cities Friday (Rick Rea – www.RickRea.com Photo)
Bill W Media
Monroe, IA USA
sprntcar@hotmail.com
Twitter: @BillWMedia
Back to News