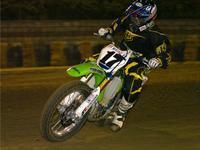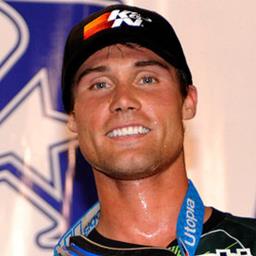 ---
Wiles Wins First Grand National Expert Singles
[i Wiles Wins First Grand National Expert Singles Championship!]
The big Springfield Doubleheader Grand National Labor Day weekend came to belated a close after 72 hours and it turned out to be championship Monday. Henry Wiles won the Springfield Short Track in a dramatic battle with Joe Kopp and Jared Mees. Wiles didn't need to win the race to win the AMA Grand National Singles Championship, but you wouldn't have known it by the way he rode his Kawasaki USA/Jones Bros./DPC Racing Kawasaki. In one of the most electrifying Springfield Short Tracks ever, Kopp, Mees and Wiles commenced a bar-banging battle. Mees and Wiles had no business battling so hard. Wiles simply needed to finish to wrap up the title and Mees has a GNC Twins series he's leading and by all rights shouldn't be hanging it on the line to win a Singles race. But racers will be racers and the sparse crowd that stuck around after Saturday night's rain out was rewarded with an intense battle that saw all three riders trade the lead numerous times.
Wiles got by Mees once with about seven laps to go, only to be re-passed in the next turn. Finally on lap 20 of 25 Wiles made the pass that would stick. Once in the lead he showed his immense short track talent and pulled away in the closing stages to a 1.8-second victory over Kopp. Mees finished third, holding off a late charge by Australian Mick Kirkness.
"I'm relieved to get it over with," said a smiling Wiles on the victory podium. "I knew I didn't need to win the race, but I wanted to take the championship in style. Plus I didn't ride all that hard to be honest, even though it might not have looked that way. I gave myself plenty of room had Jared and Joe gotten together."
Wiles becomes the third AMA Grand National Singles Champion following in the footsteps of Kenny Coolbeth and two-time series champ Jake Johnson. The separate GNC Singles Championship was established in 2006.
Back to News