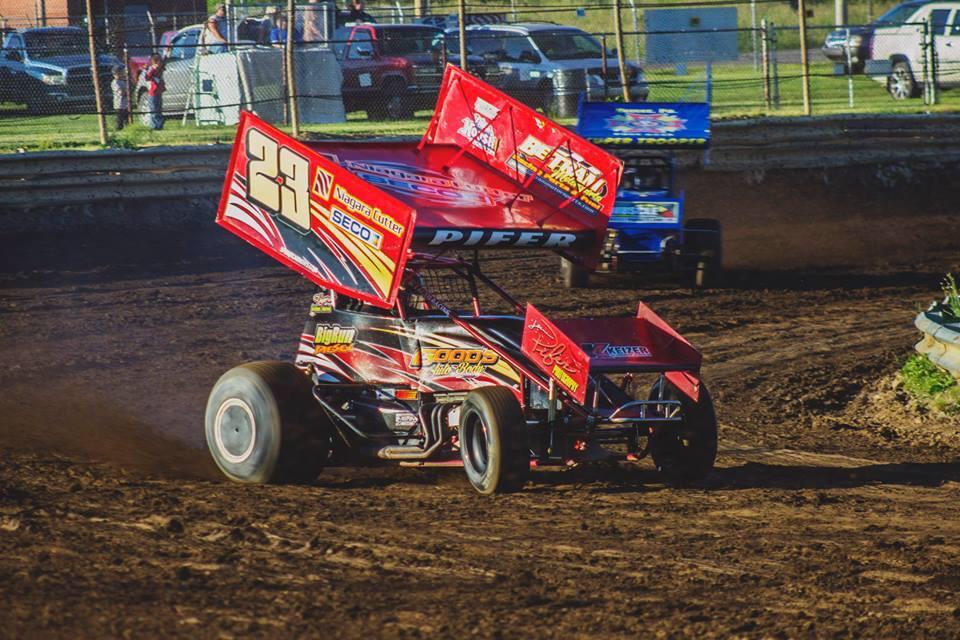 6/9/2015
---
Pifer Knocked Out of Race Under Caution
(Photo by Jeane Pifer Photography)
MERCER, Pa. – Following a streak of three consecutive top-five finishes, Darren Pifer's luck turned over the past weekend. After fuel issues at Thunder Mountain Speedway slowed him Friday, a charge toward the front at Mercer Raceway Park was cut short by contact under yellow on Saturday night.
Though Thunder Mountain is struggling with car counts, the tally improved from eight 305 sprints on May 29 to ten this past Friday. Split into two heat races, Pifer started and finished third in the second eight-lap event.
For the 20-lap feature race, Pifer would start from inside the third row. While falling to sixth on the opening lap, the driver of the No. 23 J&J held his machine in sixth until lap ten, around the time that the engine started losing power. Falling briefly to eighth on the 14th lap, Pifer maneuvered back into seventh one lap later, where he would later finish.
After the Niagara Cutter sprinter got a quick bath at the car wash, it was onto Mercer for another night's action. With 18 entries making an appearance, Pifer's lowly pill draw slated him at the tail in the first of two heat races. A strong early drive in the heat saw him momentarily up into the top-five, but getting over the cushion cut him down and held him to an eighth-place finish.
Pifer would line up 15th in the main event, and moved up to 12th in the first five laps. While swapping the 11th and 12th positions over the next eight laps, the leaders began to slowly reel in the back of the pack. A turn of events on laps 13 and 14 shook the entire field up, and Pifer was in the middle of it all. Positions two through four were involved in an incident which required a caution. As Pifer was slowing after the yellow lights illuminated, the race leader was late to slow down, and stacked into Pifer's machine. Unfortunately, the damage was enough on the No. 23 to end the night for Pifer.
Pifer would like to thank Niagara Cutter, Seco Tools, Jeane Pifer Photography, Good's Auto Body, and Betram Motorsports, as well as his family and fans for their continued support.
Pifer is next scheduled to compete on June 12 at Thunder Mountain Raceway in Knox Dale, Pa. and on June 13 at Mercer Raceway Park in Mercer, Pa. in the No. 23 305ci Sprint entry.
Quick Results
June 5 – Knox Dale, PA – 305ci Winged Sprint – Heat: 3rd (3); Feature: 7th (5)
June 6 – Mercer, PA – 305ci Winged Sprint – Heat: 8th (9); Feature: 14th (15)
2015 Stats
7 races, 7 features, 0 wins, 3 top fives, 4 top tens, 3 DNFs
Social Media
Twitter: www.twitter.com/pifer23
Facebook: www.facebook.com/darrenpifermotorsports
Instagram: www.instagram.com/dpifer23
---
Article Credit: Redbeard Promotions
Back to News