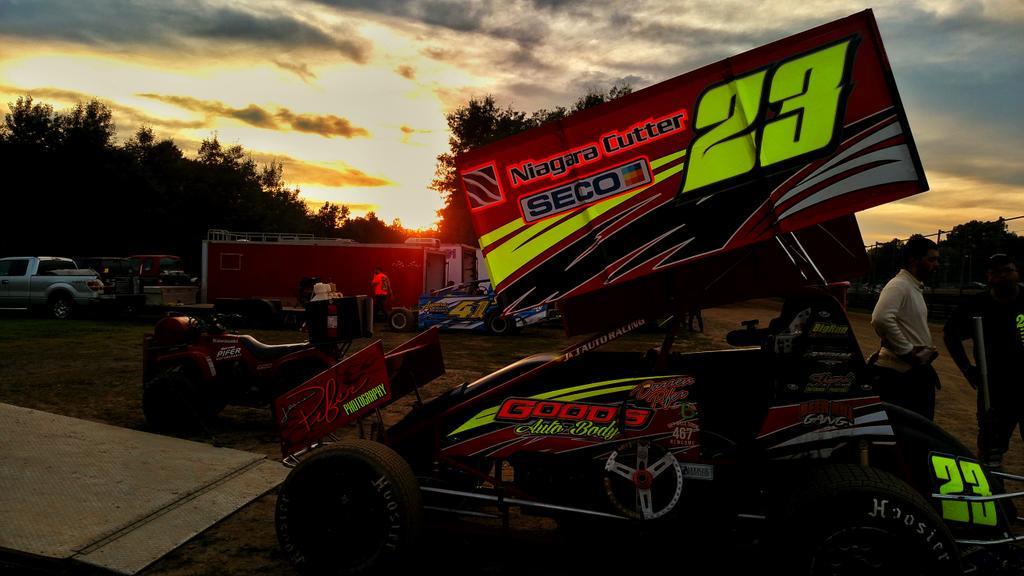 7/22/2015
---
Pifer Takes Seventh at Mercer Midseason Championship Night
(Photo by Sue Smith)
MERCER, Pa. – Though restarts have been to his disadvantage several times this season, it was a restart that played greatly in Darren Pifer's favor on Saturday night. All in all, the western Pennsylvania native came away from the night at Mercer Raceway Park with a seventh-place finish.
After Friday's race at Thunder Mountain Speedway was washed out following hot laps, Pifer's lone event of the weekend was Mercer's Midseason Championship. After starting pole of his heat race, finishing third put him in the feature invert.
The invert, contrary to the usual redraw, put the top 12 in points starting in the order of their points position. Pifer's position of seventh meant he'd start inside row four in the main event. After falling to ninth before a lap two caution, the No. 23 J&J competed on the bubble of the top-ten for much of the race. A final caution with two to go set up a green-white-checkered finish, and there, Pifer shined. Roaring by four cars on the late restart put him into seventh for the finish. The strong finish moved him up to sixth in Mercer's Outlaw Sprint Warriors class points rundown at the midpoint of the season.
Pifer would like to thank Niagara Cutter, Seco Tools, Jeane Pifer Photography, Good's Auto Body, and Betram Motorsports, as well as his family and fans for their continued support.
Pifer is next scheduled to compete on July 24 at Thunder Mountain Raceway in Knox Dale, Pa. and on July 25 at Mercer Raceway Park in Mercer, Pa. in the No. 23 305ci Sprint entry.
Quick Results
July 18 – Mercer, PA – 305ci Winged Sprint – Heat: 3rd (1); Feature: 7th (7)
2015 Stats
14 races, 14 features, 0 wins, 3 top fives, 8 top tens, 4 DNFs
Social Media
Twitter: www.twitter.com/pifer23
Facebook: www.facebook.com/darrenpifermotorsports
Instagram: www.instagram.com/dpifer23
---
Article Credit: Redbeard Promotions
Back to News