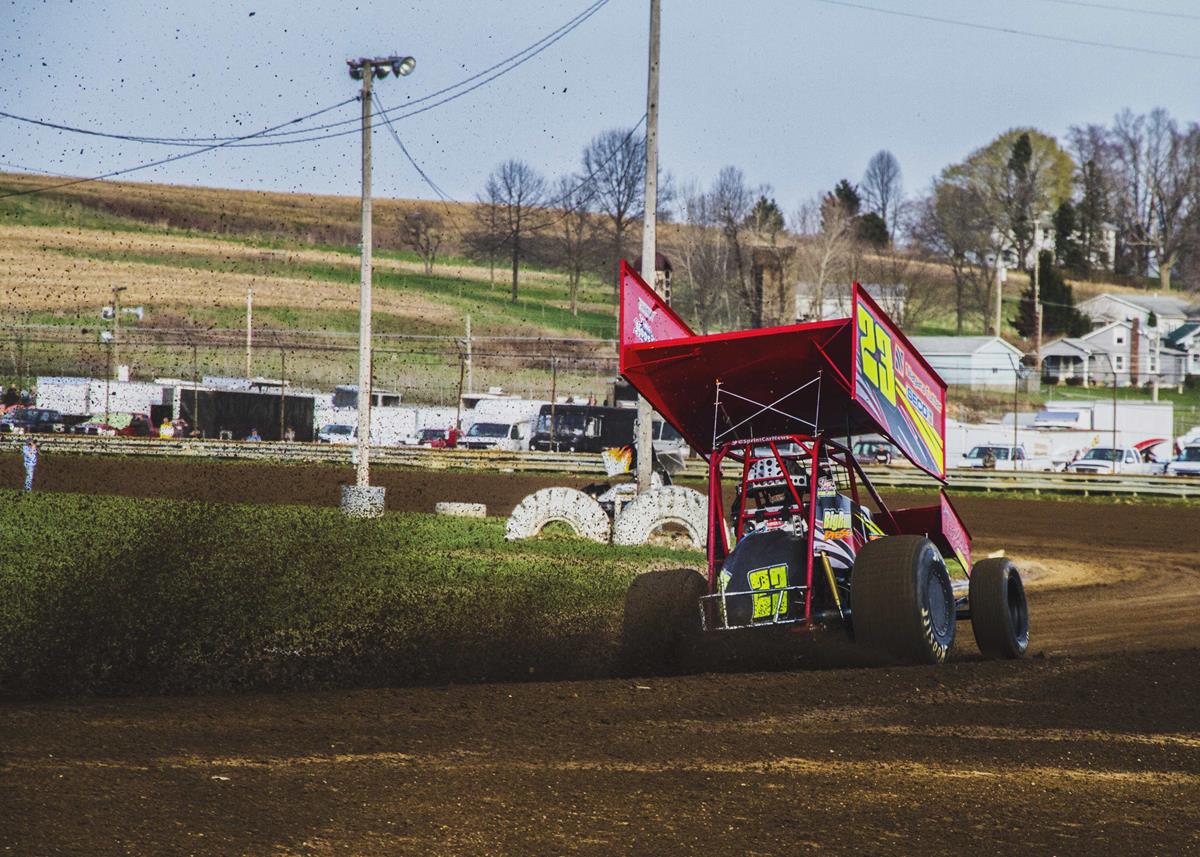 11/3/2015
---
Season Summary: Darren Pifer
(Photo by Jeane Pifer Photography)
PUNXSUTAWNEY, Pa. – A year removed from a terrifying incident that burnt a quarter of his body, Darren Pifer rebounded with a successful season that included sixth-place points finishes at two different tracks, spending his Friday nights at Thunder Mountain Speedway in Brookville, Pa. and his Saturdays at Mercer (Pa.) Raceway Park. Though going without a win, Pifer collected seven top-five finishes and made his 410ci debut at the end of the season.
The season began with struggles at Mercer, taking two of his five DNFs on the season in the first two races. The third wasn't much more productive, a 13th place result. The reopening of Thunder Mountain helped Pifer get his season back on track, picking up a fourth-place finish on May 22. He repeated that result the following night at Mercer. To close out May, Pifer earned another top-five at Thunder Mountain, finishing fifth.
The month of June included several rainouts at both of the Western Pennsylvania 3/8-mile ovals. Only competing in three events, Pifer took seventh at Thunder Mountain on June 5 before ending his night early with DNFs in the following two races.
Unlike June, July was packed with racing for Pifer's No. 23 J&J team. A doubleheader at Mercer over Independence Day weekend produced eighth- and tenth-place runs. The next weekend, he again took seventh at Thunder Mountain, before a rare finish outside the top ten came at Mercer, finishing 11th. Only Mercer was in action on the upcoming weekend; Pifer finished seventh. With the last full weekend of July came fifth- and seventh-place finishes.
As the season began to wind down, Pifer continued to finish inside the top-five or just outside of it. After finishing fifth, fourth, and sixth in the next three races, a short-lived slump came. His fifth and final DNF of the year, the first since mid-June, occurred at Mercer on August 8. A week later, things weren't much better, taking 13th. The final three races of the regular season, Pifer broke free of the troubles. He collected sixth in his last 2015 race at Thunder Mountain, then earned a top-five at Mercer 24 hours later. Closing out his regular season, Pifer nearly took fifth place again, but fell just short and came home sixth.
After a long two months, Pifer was ready to take another step. At Lernerville Speedway just north of the Pittsburgh area, he was set to break in his new 410 cubic-inch powerplant at the Steel City Stampede. Though rain tried to wreak havoc on the weekend, the track crew persisted and was able to complete the show. Pifer was able to run the scheduled distance of the race and gain speed each lap, and ultimately netted an 18th-place finish in his first career 410 appearance.
Pifer would like to thank Niagara Cutter, Seco Tools, Jeane Pifer Photography, Good's Auto Body, and Betram Motorsports, as well as his family and fans for their continued support.
2015 Stats
25 races, 25 features, 0 wins, 7 top fives, 16 top tens, 5 DNFs
Social Media
Twitter: www.twitter.com/pifer23
Facebook: www.facebook.com/darrenpifermotorsports
Instagram: www.instagram.com/dpifer23
---
Article Credit: Redbeard Promotions
Back to News