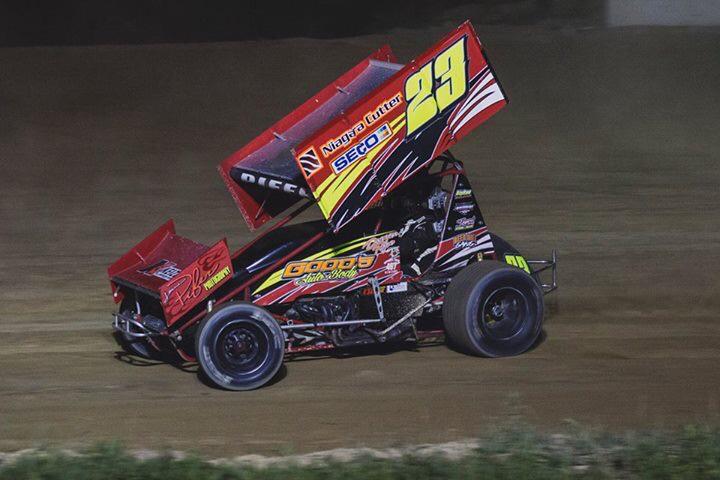 8/5/2015
---
Pifer Inches Closer to First Win
(Photo by Jeane Pifer Photography)
MERCER, Pa. – Three top-fives in four races have left Darren Pifer ecstatic to get back to the race track. Following a weekend that showcased fifth- and seventh-place finishes, the developing driver put together a pair of impressive races to tally two of the best results of his sprint car career. After taking fifth for the second consecutive week on Friday at Thunder Mountain Speedway, Pifer tied his career best on Saturday at Mercer Raceway Park with a fourth-place mark.
Friday began with a makeup race from several weeks prior. As Pifer was not in attendance on that night, he watched from the sidelines before taking the track for his heat race. Starting on the pole, Pifer fell victim to three opponents before finishing fourth.
The main event proved to be a tedious one, taking over an hour from start to finish. Pifer was scheduled to start in eighth. Two spins before a lap was complete preceded a massive pileup, causing a red flag period that lasted nearly 20 minutes. Facing an extremely dusty surface, drivers were having a hard time seeing the track ahead, and the struggle would continue for much of the race. Another red flag, this time to fill the fuel tanks on the cars, came with just six laps in the books. Ultimately, Pifer took over the fifth spot on lap seven and avoided the carnage to come away with a fifth-place finish.
Things went much more smoothly on Saturday night, but in Pifer's heat race, he faced a similar development to the previous night, losing two positions. After starting sixth, the Reynoldsville, Pa. racer fell from his fourth starting position to sixth.
Though rare this season, the redraw was kind for Pifer and his team, putting him outside the front row for the 20-lap feature. Two cautions came early on, with Pifer holding strong to second. On lap six, point leader at both Thunder Mountain and Mercer, George Hobaugh, made his move by for second. Though Pifer lost one more position in the waning laps, he still managed to match the top finish he's posted since climbing aboard a sprint car, finishing fourth.
Pifer would like to thank Niagara Cutter, Seco Tools, Jeane Pifer Photography, Good's Auto Body, and Betram Motorsports, as well as his family and fans for their continued support.
Pifer is next scheduled to compete on August 7 at Thunder Mountain Raceway in Knox Dale, Pa. and on August 8 at Mercer Raceway Park in Mercer, Pa. in the No. 23 305ci Sprint entry.
Quick Results
July 24 – Knox Dale, PA – 305ci Winged Sprint – Heat: 4th (1); Feature: 5th (8)
July 25 – Mercer, PA – 305ci Winged Sprint – Heat: 6th (4); Feature: 4th (2)
2015 Stats
18 races, 18 features, 0 wins, 6 top fives, 12 top tens, 4 DNFs
Social Media
Twitter: www.twitter.com/pifer23
Facebook: www.facebook.com/darrenpifermotorsports
Instagram: www.instagram.com/dpifer23
---
Article Credit: Redbeard Promotions
Back to News