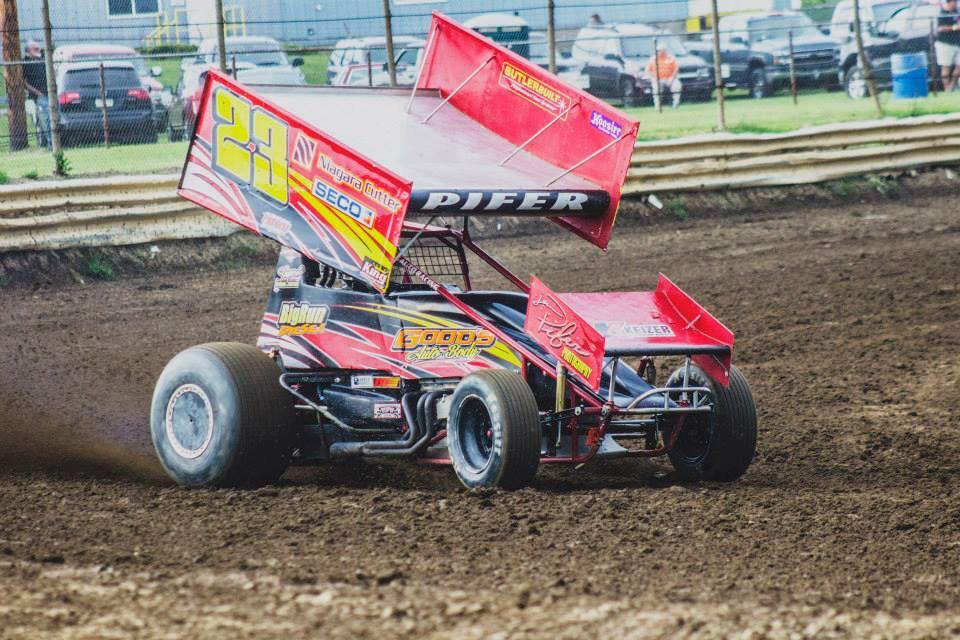 7/8/2015
---
Pifer Gathers Two Top-Tens
(Photo by Jeane Pifer Photography)
MERCER, Pa. – Breaking the trend of racing Thunder Mountain Speedway every Friday, Darren Pifer instead was in attendance at Mercer Raceway Park on consecutive nights to celebrate Independence Day with the All Star Circuit of Champions in town. The 22-year-old driver picked up his fifth and sixth top-ten finishes of the season on Friday and Saturday at the 3/8-mile oval.
Friday hosted a lower car count than usual, with just 13 signed in for the 305 sprint class. From fourth in his heat race, Pifer fell back to fifth early but regained the fourth spot shortly after, where he'd later finish.
With the top-five in both heats redrawing for feature starting position, Pifer drew the eighth spot on the grid. With very light rain falling, the race still began as scheduled. Dropping back to 11th on the start, he was able to pass one car back before the end of the first lap. Still tenth on lap eight, the rain began to come down harder, and the race was halted for over half an hour. Racing later resumed, but a red flag one lap after the restart for two of the frontrunners shifted Pifer two spots forward in the running order, up to eighth. From that point, the race was little more than a parade around the track for eleven laps. Pifer, frustrated after the race, admitted that he went too far on changing the setup during the rain delay. "I knew better than that," he reflected.
Making another attempt on Saturday night, Pifer and his No. 23 J&J started from the outside front row of heat three; nine more 305 entries arrived to bring the total to 22 for the night. The third-starting car was able to sneak by Pifer when the green dropped, and the race would conclude in that order.
Another redraw as a top-four finisher earned Pifer the seventh spot for the feature lineup. The start of the race would again prove to be a moot point, as he shuffled back two positions on lap one of the main event. Another spot lost put him on the verge of falling from the top-ten, but Pifer fended off a challenge from behind by just three-tenths of a second on the final lap to hang onto the tenth-place finish.
Pifer would like to thank Niagara Cutter, Seco Tools, Jeane Pifer Photography, Good's Auto Body, and Betram Motorsports, as well as his family and fans for their continued support.
Pifer is next scheduled to compete on July 10 at Thunder Mountain Raceway in Knox Dale, Pa. and on July 11 at Mercer Raceway Park in Mercer, Pa. in the No. 23 305ci Sprint entry.
Quick Results
July 3 – Mercer, PA – 305ci Winged Sprint – Heat: 4th (4); Feature: 8th (8)
July 4 – Mercer, PA – 305ci Winged Sprint – Heat: 3rd (2); Feature: 10th (7)
2015 Stats
11 races, 7 features, 0 wins, 3 top fives, 6 top tens, 4 DNFs
Social Media
Twitter: www.twitter.com/pifer23
Facebook: www.facebook.com/darrenpifermotorsports
Instagram: www.instagram.com/dpifer23
---
Article Credit: Redbeard Promotions
Back to News