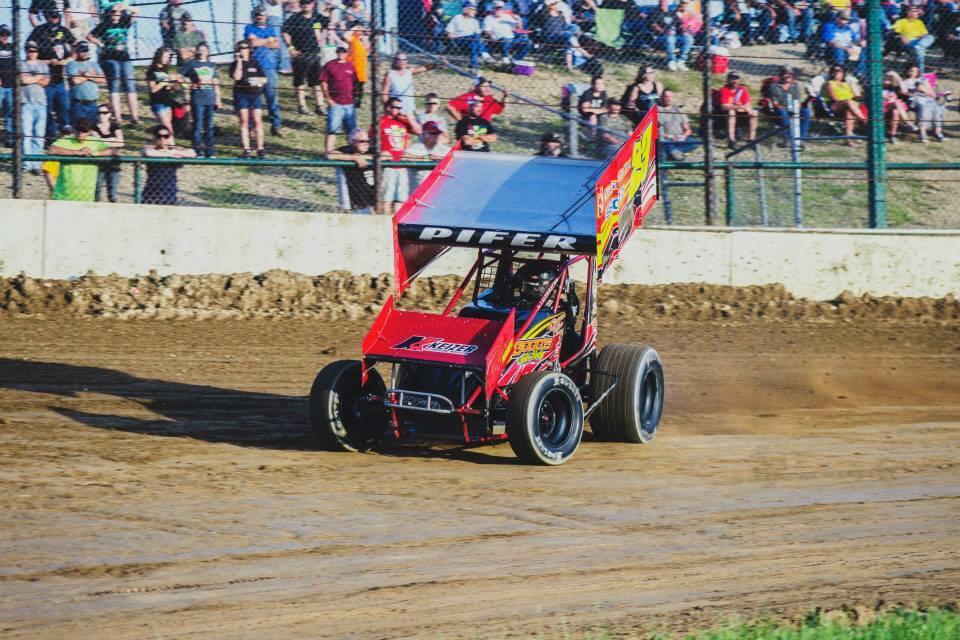 7/30/2015
---
Pifer Winds Down July With Strong Weekend
(Photo by Jeane Pifer Photography)
MERCER, Pa. – Through an up-and-down sophomore season thus far, Darren Pifer is picking up the pace with consistent finishes in the top half at nearly every race. That trend continued over the weekend, as he took his fourth top-five showing of the year on Friday at Thunder Mountain Speedway before a seventh-place result Saturday at Mercer Raceway Park.
In the 305ci sprint division at Thunder Mountain, 16 signed in to compete. In heat racing, Pifer started third and, early on, he looked to be on the move. After passing for third on the start, things began to go downhill, and he finished sixth.
The feature race lineup listed the No. 23 J&J in the 11th grid spot, but Pifer quickly changed that on the start. Up to tenth on lap one, he put another car behind him the following lap to take the ninth position. Two cautions through the middle of the event helped put Pifer into the sixth position. Later on, an additional caution and running his fastest lap of the 20-lap event with three to go paired to catapult Pifer into the top five ahead of the checkered.
The facility in Mercer featured a slightly higher 305 car count, with 19 cars being split into two heat races. From seventh in heat one, Pifer again made a pass on the start, but lost the position in the closing laps and finished seventh.
Starting in 13th for the main event, Pifer gained three positions within the first two laps. His progress would slow a bit, but cautions bunching the field back up allowed him to move to ninth by the halfway point, and a green-white-checkered finish restarting in seventh. Though unable to make a move on the final restart, Pifer tallied a top-ten finish for the tenth time of the year. "We just started too deep in the field and the track got one lane. It was hard to pass," Pifer recollected on his seventh-place run. "Just gotta get a better pill draw."
Pifer would like to thank Niagara Cutter, Seco Tools, Jeane Pifer Photography, Good's Auto Body, and Betram Motorsports, as well as his family and fans for their continued support.
Pifer is next scheduled to compete on July 31 at Thunder Mountain Raceway in Knox Dale, Pa. and on August 1 at Mercer Raceway Park in Mercer, Pa. in the No. 23 305ci Sprint entry.
Quick Results
July 24– Knox Dale, PA – 305ci Winged Sprint – Heat: 6th (4); Feature: 5th (11)
July 25– Mercer, PA – 305ci Winged Sprint – Heat: 7th (7); Feature: 7th (13)
2015 Stats
16 races, 16 features, 0 wins, 4 top fives, 10 top tens, 4 DNFs
Social Media
Twitter: www.twitter.com/pifer23
Facebook: www.facebook.com/darrenpifermotorsports
Instagram: www.instagram.com/dpifer23
---
Article Credit: Redbeard Promotions
Back to News